Montserrat-de la Paz Sergio, et al.
Journal of agricultural and food chemistry, 2014
Abstract
Non-drug varieties of Cannabis sativa L., collectively namely as "hemp", have been an interesting source of food, fiber, and medicine for thousands of years. The ever-increasing demand for vegetables oils has made it essential to characterize additional vegetable oil through innovative uses of its components. The lipid profile showed that linoleic (55%), α-linolenic (16%), and oleic (11%) were the most abundant fatty acids. A yield (1.84-1.92%) of unsaponifiable matter was obtained, and the most interesting compounds were β-sitosterol (1905.00 ± 59.27 mg/kg of oil), campesterol (505.69 ± 32.04 mg/kg of oil), phytol (167.59 ± 1.81 mg/kg of oil), cycloartenol (90.55 ± 3.44 mg/kg of oil), and γ-tocopherol (73.38 ± 2.86 mg/100 g of oil). This study is an interesting contribution for C. sativa L. consideration as a source of bioactive compounds contributing to novel research applications for hemp seed oil in the pharmaceutical, cosmetic food, and other non-food industries.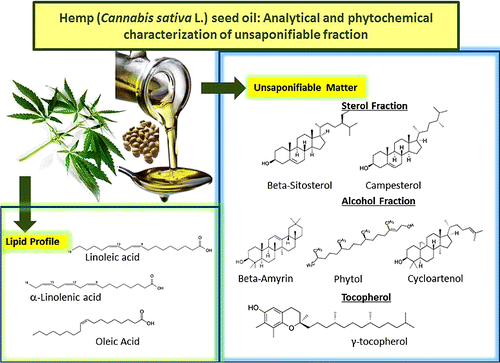 Keywords
Cannabis sativa; fatty acids; hemp; phytol; sterols; tocopherols; vegetable oils.
The best supplements with Cannabidiol in Hemp Products category: GreenLeaf - CBD Oil.
Articles similar to "Hemp (Cannabis sativa L.) seed oil: analytical and phytochemical characterization of the unsaponifiable fraction."
Previous article
The cannabinoid system and immune modulation.
Next article
The composition of hemp seed oil and its potential as an important source of nutrition.