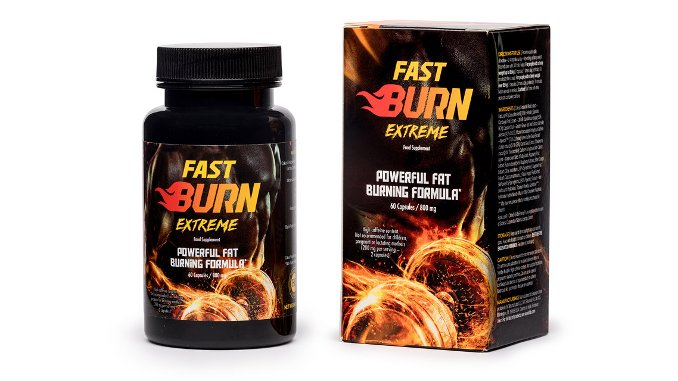 This description has been derived from the manufacturer's / distributor's website.
Fast Burn Extreme è un integratore brucia grassi multi-componente unico. La formula Strong Fast Burn Extreme è stata creata per atleti e persone fisicamente attive, ma i suoi vantaggi possono essere di beneficio a tutti – indipendentemente dall'intensità dell'esercizio e dal peso corporeo.
Un brucia grassi efficace! Rinforza e da energia
Dimagrire è un processo che può interferire con molti fattori esterni o interni. Quindi, ci sono molti problemi ad ostacolare le persone che cercano di costruirsi una muscolatura e dimagrire. Oggi è noto che, in molti casi, non è solo utile ma anche indispensabile l'impulso che avvierà la riduzione del grasso corporeo. Un tale positivo iniziatore dei cambiamenti è Fast Burn Extreme, che attiva la riduzione del grasso corporeo, aumenta la concentrazione e facilita la costruzione della massa muscolare. Integrandolo alla dieta ed al piano di allenamento, consente di bruciare fino a 500 calorie in più durante ogni allenamento. L'uso regolare di Fast Burn Extreme e l' attività fisica hanno una influenza efficace sull'aumento delle calorie bruciate!
Coloro che si allenano spesso commettono lo stesso errore. Si concentrano sulla costruzione della struttura muscolare, invece di rimuovere prima il grasso corporeo . Le riserve di grasso non permettono di evidenziare i muscoli e sono responsabili dell'aspetto meno attraente della figura. Una piccola percentuale di perdita di grasso è sufficiente per evidenziare i muscoli e aumentare l'efficacia degli esercizi.
Fast Burn Extreme – Ingredienti
Recommended intake of this supplement: 2 capsule, daily (adults).

Integratori alimentari simili a Fast Burn Extreme
The Fast Burn Extreme dietary supplement is available in San Marino and many others countries around the world. In San Marino this supplement contains: BioPerine®, Bitter Orange, Black Pepper, Cacao, Caffeine, Cayenne Pepper, Chlorogenic Acid, Chromium, Coleus Forskohlii, Epigallocatechin Gallate, Garcinia Cambogia, Green Coffee, Green Tea, Piperine, Raspberry, Raspberry Ketone, Synephrine and Vitamin B6 in its composition.
Detailed descriptions of the ingredients included in the Fast Burn Extreme dietary supplement:
Search Your Country