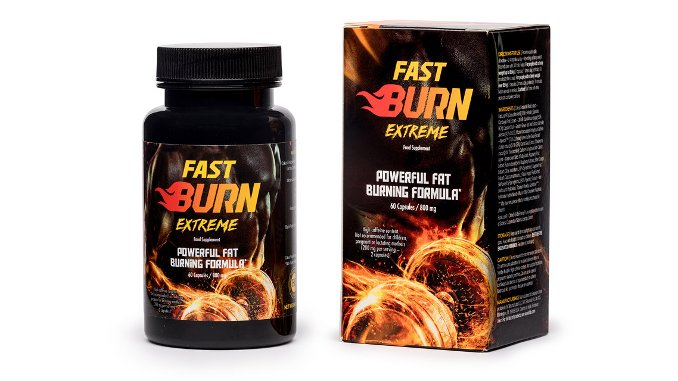 This description has been derived from the manufacturer's / distributor's website.
Fast Burn Extreme er et unikt og komplekst produkt til reduktion af fedtvæv. Den effektive opskrift på Fast Burn Extreme er skabt med tanke for sportsfolk og fysisk aktive personer, men alle kan drage fordel af produktets egenskaber – uanset træningsintensiteten og kropsvægten.
En effektiv fedtforbrænder! Styrker og giver ny energi
Et vægttab er en proces, som kan besværliggøres af mange indre eller udefrakommende faktorer. Og derved opstår problemerne hos de personer, som søger at opbygge muskelmasse samt opnå en slank figur. Vi ved i dag, at en impuls som initierer reduktionen af fedtvæv, i mange tilfælde ikke blot understøtter, men nogen gange er en absolut nødvendighed. En sådan positiv initiator for ændringer er Fast Burn Extreme, som aktiverer reduktionen af fedtvæv, øger koncentrationen og gør det nemmere at opbygge muskelmasse. Hvis produktet tilføjes til kostindtaget og træningsplanen, bliver det muligt at forbrænde 500 kalorier ekstra under hver træning. Regelmæssig anvendelse af Fast Burn Extreme i kombination med fysisk aktivitet vil effektivt influere på en øget kalorieforbrænding.
De, som træner hyppigt, begår den samme fejl. De koncentrerer sig om at opbygge muskelmasse, i stedet for i første omgang at få fjernet fedtvævet. Netop fedtreserverne tillader ikke musklerne at udvide deres omfang, og det er fedtet som er ansvarlig for den klart mindre attraktive del af din figur. Et meget begrænset fald i mængden af fedtvæv er tilstrækkeligt, for at understrege musklerne og øge effektiviteten af træningen.
Fast Burn Extreme – Ingredienser
Recommended intake of this supplement: 2 capsule, daily (adults).

Kosttilskud svarende til Fast Burn Extreme
The Fast Burn Extreme dietary supplement is available in Denmark and many others countries around the world. In Denmark this supplement contains: BioPerine®, Bitter Orange, Black Pepper, Cacao, Caffeine, Cayenne Pepper, Chlorogenic Acid, Chromium, Coleus Forskohlii, Epigallocatechin Gallate, Garcinia Cambogia, Green Coffee, Green Tea, Piperine, Raspberry, Raspberry Ketone, Synephrine and Vitamin B6 in its composition.
Detailed descriptions of the ingredients included in the Fast Burn Extreme dietary supplement:
Search Your Country