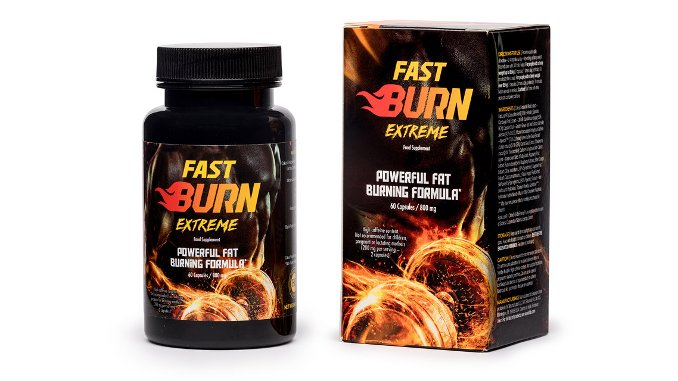 This description has been derived from the manufacturer's / distributor's website.
Fast Burn Extreme é um exclusivo redutor do tecido adiposo com múltiplos ingredientes. A formula potente do Fast Burn Extreme surgiu pensando se nos esportistas e pessoas que praticam atividade física, mas a principio pode ser utilizado por todos independentemente da intensidade de atividade física e peso corporal.
Exclusivo queimador de gordura! Fortalece e aumenta a energia
O emagrecimento é um processo que pode interferir em muitos fatores externos ou internos. Por isso, há muitos problemas que as pessoas enfrentam ao tentar construir músculos e reduzir medidas. Hoje sabe-se que, em muitos casos, não é apenas útil, mas mesmo indispensável o impulso que iniciará a redução da gordura corporal. Esse iniciador positivo de mudanças é Fast Burn Extreme, que ativa a redução da gordura corporal, aumenta a concentração e facilita a construção de músculos. Inclui lo na sua dieta e plano de treinamento permite que você queime até 500 calorias a mais durante cada treino. O uso regular de Fast Burn Extreme e a pratica de atividade física influem efetivamente no aumento de calorias queimadas!
Pessoas que treinam geralmente cometem o mesmo erro. Elas se concentram na construção de músculos, em vez de remover a gordura corporal primeiro. São as reservas de gordura que não permitem destacar os músculos e são responsáveis por uma aparência muito menos atraente. Uma pequena porcentagem de perda de gordura é suficiente para enfatizar os músculos e aumentar a eficácia do exercício.
Fast Burn Extreme – Ingredientes
Recommended intake of this supplement: 2 capsule, daily (adults).

Suplementos dietéticos semelhantes ao Fast Burn Extreme
The Fast Burn Extreme dietary supplement is available in Portugal and many others countries around the world. In Portugal this supplement contains: BioPerine®, Bitter Orange, Black Pepper, Cacao, Caffeine, Cayenne Pepper, Chlorogenic Acid, Chromium, Coleus Forskohlii, Epigallocatechin Gallate, Garcinia Cambogia, Green Coffee, Green Tea, Piperine, Raspberry, Raspberry Ketone, Synephrine and Vitamin B6 in its composition.
Detailed descriptions of the ingredients included in the Fast Burn Extreme dietary supplement:
Search Your Country