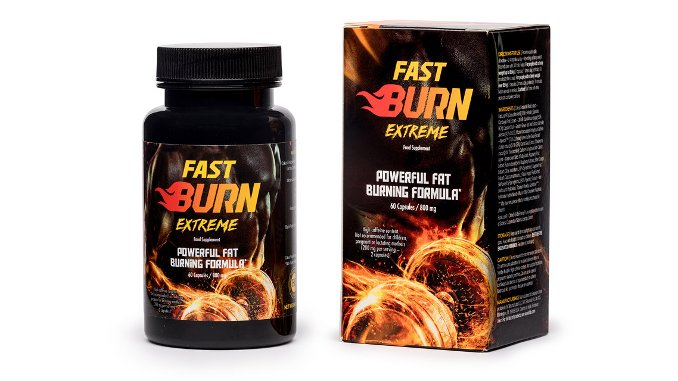 This description has been derived from the manufacturer's / distributor's website.
Fast Burn Extreme est un réducteur de graisse unique aux composants multiples. La formule puissante de Fast Burn Extreme a été créée pour les athlètes et les personnes actives. Néanmoins tout le monde peut profiter de ses avantages, peu importe votre activité physique ou votre poids.
Brûleur de graisse efficace ! Renforce et redonne de l'énergie!
L'amincissement est un processus qui peut être affecté par de nombreux facteurs internes ou externes. Par conséquent, les personnes qui essaient de prendre du muscle ou affiner leur silhouette rencontrent de nombreuses difficultés. Aujourd'hui il est reconnu dans de nombreux cas qu'une impulsion pour initier la réduction de graisse corporelle n'est pas seulement utile, mais indispensable. Fast Burn Extreme est un excellent initiateur de changement qui active la réduction des tissus adipeux, augmente la concentration et facilite le développement des muscles. En complément de l'alimentation, il vous permet de brûler jusqu'à 500 calories supplémentaires à chaque entraînement. L'utilisation régulière de Fast Burn Extreme conjuguée à une activité physique augmente grandement le nombre de calories brûlées!
Les personnes qui s'entraînent font souvent la même erreur : elles se concentrent sur la prise de masse musculaire plutôt que se débarrasser d'abord de la graisse corporelle. Ce sont les réserves de graisse qui empêchent les muscles de ressortir et qui sont responsables de l'aspect bien moins attrayant de la silhouette. Un faible pourcentage de perte de graisse est suffisant pour souligner les muscles et augmenter l'efficacité de l'exercice.
Fast Burn Extreme – Ingrédients
Recommended intake of this supplement: 2 capsule, daily (adults).

Compléments alimentaires similaires à Fast Burn Extreme
The Fast Burn Extreme dietary supplement is available in France and many others countries around the world. In France this supplement contains: BioPerine®, Bitter Orange, Black Pepper, Cacao, Caffeine, Cayenne Pepper, Chlorogenic Acid, Chromium, Coleus Forskohlii, Epigallocatechin Gallate, Garcinia Cambogia, Green Coffee, Green Tea, Piperine, Raspberry, Raspberry Ketone, Synephrine and Vitamin B6 in its composition.
Detailed descriptions of the ingredients included in the Fast Burn Extreme dietary supplement:
Search Your Country