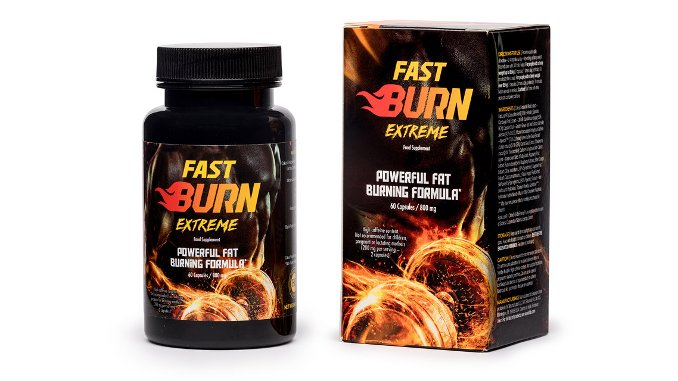 This description has been derived from the manufacturer's / distributor's website.
Fast Burn Extreme is a unique multi-component fat reducer. Fast Burn Extreme's strong formula was created for athletes and physically active people, but its advantages can benefit everyone – regardless of the intensity of exercise and body weight.
An effective fat burner! Strengthens and adds energy
Losing weight is a process that can interfere with many external or internal factors. Hence, there are a lot of problems that people trying to build muscle and lose weight face. Today, it is known that in many cases the impulse that will initiate the reduction of body fat is not only helpful, but even indispensable. Fast Burn Extreme is such a positive initiator of changes, which activates the reduction of body fat, increases concentration and facilitates muscle building. Adding the diet and training plan it to allows you to burn up to 500 calories more during each workout. Regular use of Fast Burn Extreme and performing physical activity effectively affect the increase in the calories burned!
People who train often make the same mistake. They focus on building muscle, instead of removing body fat first. It is the fat reserves that do not allow the muscles to be highlighted and they are responsible for the much less attractive appearance of the figure. A small percentage of fat loss is enough to emphasize the muscles and increase the effectiveness of the exercises.
Fast Burn Extreme – Ingredients
Recommended intake of this supplement: 2 capsule, daily (adults).

Dietary supplements similar to Fast Burn Extreme
The Fast Burn Extreme dietary supplement is available in The United Kingdom and many others countries around the world. In The United Kingdom this supplement contains: BioPerine®, Bitter Orange, Black Pepper, Cacao, Caffeine, Cayenne Pepper, Chlorogenic Acid, Chromium, Coleus Forskohlii, Epigallocatechin Gallate, Garcinia Cambogia, Green Coffee, Green Tea, Piperine, Raspberry, Raspberry Ketone, Synephrine and Vitamin B6 in its composition.
Detailed descriptions of the ingredients included in the Fast Burn Extreme dietary supplement:
Search Your Country