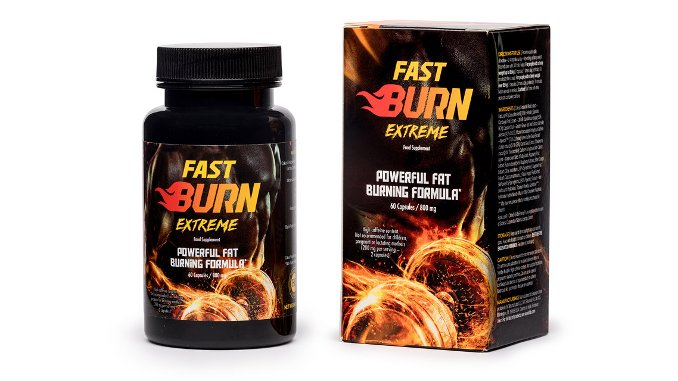 This description has been derived from the manufacturer's / distributor's website.
Fast Burn Extreme on ainutlaatuinen ja monikomponenttinen rasvakerroksen poistaja. Fast Burn Extreme tehokas resepti on kehitetty urheilijoita ja liikuntaa harrastavia henkilöitä ajatellen, mutta sen eduista voi nauttia kuka tahansa – harjoitusten intensiteetistä ja ruumiinpainosta riippumatta.
Tehokas rasvanpolttaja! Vahvistaa ja lisää energiaa
Laihduttaminen on prosessi, jota voivat häiritä monet ulkoiset tai sisäiset tekijät. Tästä johtuvat monet ongelmat, joiden kanssa lihastensa kasvattamiseen ja ulkonäkönsä parantamiseen pyrkivät henkilöt joutuvat tekemisiin. Nykyään tiedetään, että monissa tapauksissa paitsi auttaa myös suorastaan tarvitaan sellainen impulssi, joka panee rasvakerroksen vähenemisen alulle. Tällaisena muutostekijänä voi toimia Fast Burn Extreme, joka aktivoi kehon rasvan vähenemisen, lisää keskittymiskykyä ja helpottaa lihasten kasvattamista. Sen lisääminen ruokavalioonsa ja treenausohjelmaansa tekee mahdolliseksi polttaa jopa 500 kaloria enemmän jokaisten treenien yhteydessä. Fast Burn Extreme säännöllinen käyttäminen yhdistettynä fyysiseen aktiivisuuteen vaikuttaa tehokkaasti poltettujen kalorien lukumäärän nousuun!
Treenaavat henkilöt tekevät usein saman virheen. He keskittyvät lihastensa kasvattamiseen, sen sijaan että huolehtisivat ensin rasvakerroksen poistamisesta. Juuri rasvavarastot eivät salli lihasten kasvaa täyteen mittaansa ja tekevät vartalon ulkonäön vähemmän viehättäväksi. Täytyy vain vähentää rasvakerrosta suhteellisen vähän pystyäkseen korostamaan lihaksia ja suurentamaan treenausten tehokkuutta.
Fast Burn Extreme – Ainesosia
Recommended intake of this supplement: 2 capsule, daily (adults).

Ravintolisät, kuten Fast Burn Extreme
The Fast Burn Extreme dietary supplement is available in Finland and many others countries around the world. In Finland this supplement contains: BioPerine®, Bitter Orange, Black Pepper, Cacao, Caffeine, Cayenne Pepper, Chlorogenic Acid, Chromium, Coleus Forskohlii, Epigallocatechin Gallate, Garcinia Cambogia, Green Coffee, Green Tea, Piperine, Raspberry, Raspberry Ketone, Synephrine and Vitamin B6 in its composition.
Detailed descriptions of the ingredients included in the Fast Burn Extreme dietary supplement:
Search Your Country