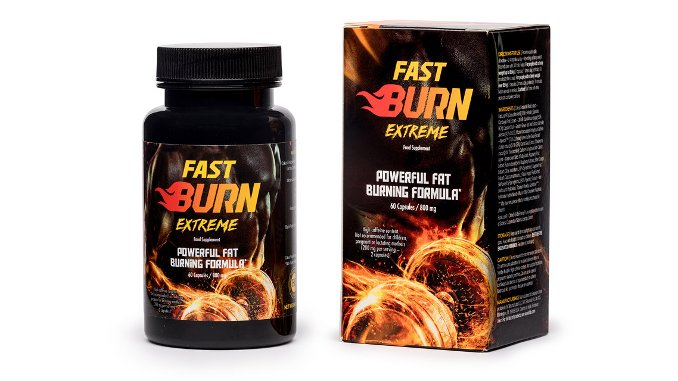 Ten opis pochodzi ze strony producenta / dystrybutora.
Fast Burn Extreme to unikalny wieloskładnikowy reduktor tkanki tłuszczowej. Silna formuła Fast Burn Extreme powstała z myślą o sportowcach i osobach aktywnych fizycznie, jednak z jej zalet może korzystać każdy – niezależnie od intensywności ćwiczeń i wagi ciała.
Wyjątkowy spalacz tłuszczu! Wzmacnia i dodaje energii
Odchudzanie to proces, który może zakłócać wiele czynników zewnętrznych lub wewnętrznych. Stąd mnóstwo problemów, przed którymi stają osoby próbujące zbudować mięśnie i wyszczuplić sylwetkę. Dzisiaj wiadomo, że w wielu przypadkach nie tylko pomocny, ale wręcz niezbędny jest impuls, który zapoczątkuje redukcję tkanki tłuszczowej. Takim pozytywnym inicjatorem zmian jest Fast Burn Extreme, który aktywizuje redukcję tkanki tłuszczowej, zwiększa koncentrację i ułatwia budowę mięśni. Dołączenie go do diety i planu treningowego pozwala spalić do 500 kalorii więcej podczas każdego treningu. Regularne stosowanie Fast Burn Extreme oraz podjęcie aktywności fizycznej skutecznie wpływa na wzrost spalanych kalorii!
Osoby trenujące często popełniają ten sam błąd. Skupiają się na budowaniu mięśni, zamiast w pierwszej kolejności usunąć tkankę tłuszczową. To właśnie rezerwy tłuszczowe nie pozwalają uwypuklić mięśni i to one odpowiadają za zdecydowanie mniej atrakcyjny wygląd sylwetki. Wystarczy niewielki procentowo spadek tkanki tłuszczowej, by podkreślić mięśnie i zwiększyć efektywność ćwiczeń.
Fast Burn Extreme – Składniki
Recommended intake of this supplement: 2 capsule, daily (adults).

Suplementy diety podobne do Fast Burn Extreme
Suplement diety Fast Burn Extreme jest dostępny w Polsce i wielu innych krajach na całym świecie. W Polsce ten suplement zawiera w swoim składzie następujące składniki: BioPerine®, Bitter Orange, Black Pepper, Cacao, Caffeine, Cayenne Pepper, Chlorogenic Acid, Chromium, Coleus Forskohlii, Epigallocatechin Gallate, Garcinia Cambogia, Green Coffee, Green Tea, Piperine, Raspberry, Raspberry Ketone, Synephrine and Vitamin B6.
Szczegółowy opis składników zawartych w suplemencie diety Fast Burn Extreme:
Search Your Country