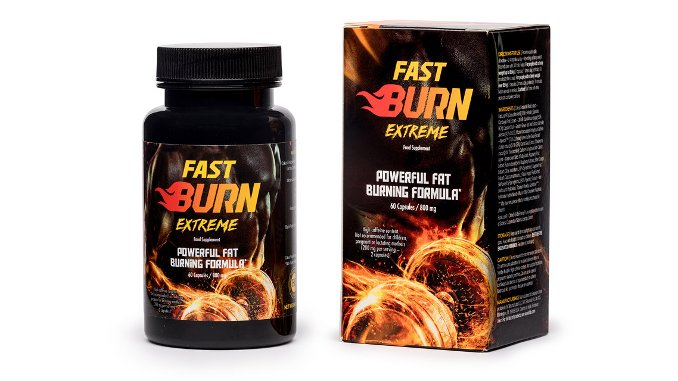 This description has been derived from the manufacturer's / distributor's website.
Fast Burn Extreme is een uniek vetreduceermiddel met meerdere componenten. De sterke formule Fast Burn Extreme is gemaakt voor sporters en fysiek actieve mensen, maar de voordelen ervan kunnen iedereen ten goede komen, ongeacht de intensiteit van lichaamsbeweging en lichaamsgewicht.
Een effectieve vetverbrander! Versterkt en voegt energie toe
Afvallen is een proces dat vele externe of interne factoren kan verstoren. Vandaar dat er veel problemen zijn bij mensen, die proberen spiermassa op te bouwen en af te slanken. Tegenwoordig is het bekend dat het in veel gevallen een impuls niet alleen nuttig is, maar zelfs onmisbaar is om de vermindering van lichaamsvet te initiëren. Zo'n positieve initiator van veranderingen is Fast Burn Extreme, dat de vermindering van lichaamsvet activeert, de concentratie verhoogt en spieropbouw mogelijk maakt. Door het aan het dieet te koppelen kunt u met het trainingsplan tot 500 calorieën meer verbranden tijdens elke training. Regelmatig gebruik van Fast Burn Extreme en het nemen van lichaamsbeweging heeft een effectieve invloed op de toename van het aantal verbrande calorieën!
Sporters maken vaak dezelfde fout. Ze richten zich op het opbouwen van spieren, in plaats van eerst lichaamsvet te verwijderen. Het zijn de vetreserves die niet toelaten de spieren te accentueren en zij zijn verantwoordelijk voor het veel minder aantrekkelijke uiterlijk van de figuur. Een klein percentage van het vetverlies is voldoende om de spieren te benadrukken en de effectiviteit van lichaamsbeweging te verhogen.
Fast Burn Extreme – Ingrediënten
Recommended intake of this supplement: 2 capsule, daily (adults).

Dieetsupplementen vergelijkbaar met Fast Burn Extreme
The Fast Burn Extreme dietary supplement is available in Belgium and many others countries around the world. In Belgium this supplement contains: BioPerine®, Bitter Orange, Black Pepper, Cacao, Caffeine, Cayenne Pepper, Chlorogenic Acid, Chromium, Coleus Forskohlii, Epigallocatechin Gallate, Garcinia Cambogia, Green Coffee, Green Tea, Piperine, Raspberry, Raspberry Ketone, Synephrine and Vitamin B6 in its composition.
Detailed descriptions of the ingredients included in the Fast Burn Extreme dietary supplement:
Search Your Country