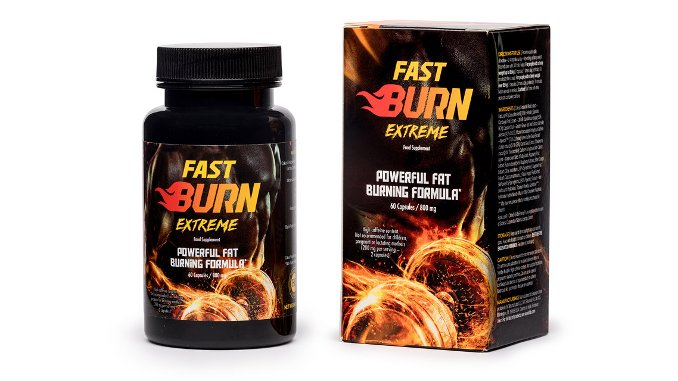 This description has been derived from the manufacturer's / distributor's website.
Fast Burn Extreme es un excepcional reductor del tejido graso. La potente fórmula de Fast Burn Extreme ha sido desarrollada especialmente para deportistas y personas físicamente activas, pero cualquiera puede disfrutar de sus ventajas, sin importar la intensidad del ejercicio ni el peso corporal.
¡Un quema grasas eficaz! Fortalece y proporciona energía
Adelgazar es un proceso en el que pueden interferir muchos factores externos o internos. Esta es la razón por la que las personas que tratan de aumentar sus músculos y adelgazar la silueta se enfrentan a multitud de problemas. Hoy en día es bien sabido que en muchos casos no sólo es útil un impulso, sino que incluso es necesario para iniciar la reducción del tejido adiposo. Este impulso puede ser Fast Burn Extreme, que activa la reducción del tejido graso, aumenta la concentración y facilita la formación muscular. Unido a la dieta, su plan de entrenamiento le permitirá quemar hasta 500 calorías más durante cada sesión de entrenamiento. ¡El uso regular de Fast Burn Extreme y la actividad física aumentan de forma eficaz las calorías quemadas!
Las personas que entrenan con frecuencia cometen el mismo error. Se centran en la construcción de músculo, en lugar de eliminar primero el tejido graso. Son precisamente las reservas de grasa las que no permiten esculpir los músculos y las responsables de una silueta mucho menos atractiva. Basta con una pequeña pérdida del tejido graso para definir los músculos y aumentar la efectividad del ejercicio.
Fast Burn Extreme – Ingredientes
Recommended intake of this supplement: 2 capsule, daily (adults).

Suplementos dietéticos similares a Fast Burn Extreme
The Fast Burn Extreme dietary supplement is available in Spain and many others countries around the world. In Spain this supplement contains: BioPerine®, Bitter Orange, Black Pepper, Cacao, Caffeine, Cayenne Pepper, Chlorogenic Acid, Chromium, Coleus Forskohlii, Epigallocatechin Gallate, Garcinia Cambogia, Green Coffee, Green Tea, Piperine, Raspberry, Raspberry Ketone, Synephrine and Vitamin B6 in its composition.
Detailed descriptions of the ingredients included in the Fast Burn Extreme dietary supplement:
Search Your Country