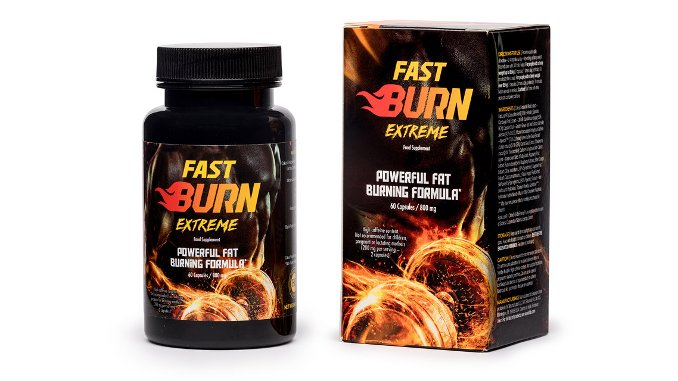 This description has been derived from the manufacturer's / distributor's website.
Fast Burn Extreme ist ein einzigartiger Mehrkomponenten-Fettreduzierer. Die intensive Formel von Fast Burn Extreme wurde mit dem Gedanken an Sportler und körperlich aktive Personen entwickelt. Die Vorzüge des Präparates können jedoch alle nutzen, unabhängig von der Intensität der Trainingseinheiten oder dem Körpergewicht.
Ein effektiver Fatburner! Stärkt und verleiht Energie
Abnehmen ist ein Prozess, der viele externe oder interne Faktoren beeinträchtigen kann. Daher gibt es eine Menge an Problemen, mit denen Menschen konfrontiert werden, die versuchen, die Muskelmasse aufzubauen und die Figur zu verbessern. Heute weiß man, dass es in vielen Fällen nicht nur hilfreich, sondern sogar unabdingbar ist, dass ein entsprechender Impuls die Reduktion des Körperfetts auslöst. Ein solcher positiver Initiator für Veränderungen ist Fast Burn Extreme, denn es aktiviert die Reduktion von Körperfett, erhöht die Konzentration und erleichtert den Muskelaufbau. Durch die Integration in den Ernährungsplan kann man beim Training bis zu 500 Kalorien mehr verbrennen. Die regelmäßige Anwendung von Fast Burn Extreme und körperliche Aktivität steigern die Verbrennung von Kalorien sehr effektiv!
Viele Menschen machen beim Training oft denselben Fehler. Sie konzentrieren sich auf den Muskelaufbau, anstatt zuerst einmal Körperfett zu entfernen. Es sind die Fettreserven, die es nicht erlauben, die Muskeln hervorzuheben – also genau diese sind für das viel weniger attraktive Aussehen der Figur verantwortlich. Es genügt ein bereits relativ geringer Verlust an Fettgewebe, um die Muskeln zu betonen und die Effektivität des Trainings zu erhöhen.
Fast Burn Extreme – Inhaltsstoffe
Recommended intake of this supplement: 2 capsule, daily (adults).

Nahrungsergänzungsmittel ähnlich Fast Burn Extreme
The Fast Burn Extreme dietary supplement is available in Switzerland and many others countries around the world. In Switzerland this supplement contains: BioPerine®, Bitter Orange, Black Pepper, Cacao, Caffeine, Cayenne Pepper, Chlorogenic Acid, Chromium, Coleus Forskohlii, Epigallocatechin Gallate, Garcinia Cambogia, Green Coffee, Green Tea, Piperine, Raspberry, Raspberry Ketone, Synephrine and Vitamin B6 in its composition.
Detailed descriptions of the ingredients included in the Fast Burn Extreme dietary supplement:
Search Your Country