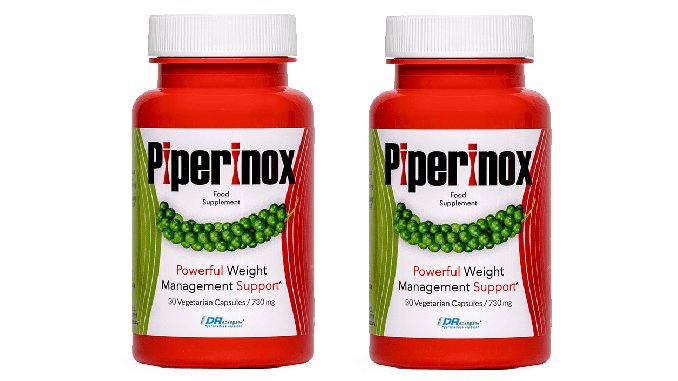 This description has been derived from the manufacturer's / distributor's website.
Are you tired of constantly trying to lose weight? Choose Piperinox and enjoy a beautiful figure! Piperinox is a recommendable dietary supplement supporting the weight loss process.
Piperinox are the most effective capsules using the power of piperine. They contain the patented form of BioPerine®, which has a beneficial effect on weight loss, activating metabolism and improving the absorption of nutrients. Try it now!
Piperinox – Ingredients
Recommended intake of this supplement: 1 capsule, daily (adults).
DRcaps® & logo are trademarks of Lonza or its affiliates.
BioPerine® is a registered trademark of Sabinsa Corporation/Sabinsa Europe GmbH.
Capsule Shell – Hydroxypropyl Methylcellulose; Colour – Titanium Dioxide, Anti-Caking Agent – Magnesium Salt of Fatty Acids. Manufactured in European Union Exlusively for Natural Labs LLC, 501 Silverside Rd, Ste 105 Wilmington, DE 19809 USA. Country of origin: European Union.
Dietary supplements similar to Piperinox
The Piperinox dietary supplement is available in The Faroe Islands and many others countries around the world. In The Faroe Islands this supplement contains: BioPerine®, Bitter Orange, Black Pepper, Caffeine, Capsaicin, Cayenne Pepper, Chinese Cinnamon, Chromium, Ginger, Gingerol, Guarana Seed, Piperine and Synephrine in its composition.
Detailed descriptions of the ingredients included in the Piperinox dietary supplement:
Search Your Country