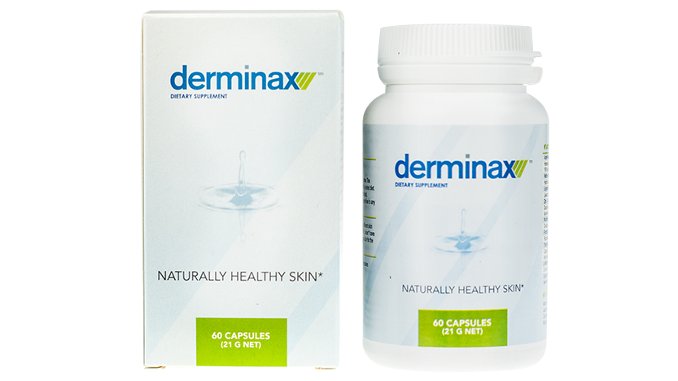 This description has been derived from the manufacturer's / distributor's website.
Na rozdiel od väčšiny iných prípravkov, vrátane rôznych pleťových vôd, krémov a masiek, ktorých nanášanie Vás stojí mnoho času a námahy, Derminax sa užíva ústne. To znamená, že bez ohľadu na to, akokoľvek sa Vám nechce, alebo ako veľmi ste zaneprázdnení, vždy si nájdete aspoň chvíľku na liečbu Vášho akné – jediné, čo musíte urobiť, je vziať si 2 kapsuly denne a silné, prírodné zložky obsiahnuté v našom preparáte urobia zvyšok!
Eliminuje toxíny – hlavnú príčinu akné. Príliš veľa toxínov v tele môže viesť k zápalu kože, upchávaniu pórov a následne k akné. Derminax odstraňuje tieto škodlivé látky z tela. Čistí krv, a tým odstraňuje jedy, pre ktoré vaša pokožka trpí nezrovnalosťami a akné.
Eliminuje zvyšky odumretých buniek a baktérie z Vašich pórov – sekundárnu príčinu akné. Nečistoty, odumreté bunky a baktérie často upchávajú póry a vedú ku vzniku bolestivých vyrážok. Receptúra Derminax obsahuje silné prírodné ingrediencie, ktoré majú antibakteriálne a antiseptické vlastnosti. Vďaka nim vaša pleť získa hladký a čistý povrch bez prejavov akné.
Eliminuje jazvy, tmavé škvrny a iné dôsledky po akné. Účinné látky v našom produkte čistia a tonizujú pokožku každého dospelého človeka.
Naša silná receptúra začína účinkovať už po 2-4 týždňoch za predpokladu pravidelného užívania prípravku Derminax. Užívajte kapsuly podľa pokynov počas 3 mesiacov a získajte dokonale hladkú pokožku! Len vďaka užívaniu kapsúl.
Derminax – Prísady
Recommended intake of this supplement: 2 capsule, daily (adults).
Potravinové doplnky podobné Derminax
The Derminax dietary supplement is available in Slovakia and many others countries around the world. In Slovakia this supplement contains: Copper, Horsetail, Hydrolyzed Collagen, L-Cysteine, Nettle, Vitamin B1, Vitamin B12, Vitamin B2, Vitamin B3, Vitamin B5, Vitamin B6, Vitamin B7, Vitamin B9, Vitamin C, Vitamin E and Zinc in its composition.
Detailed descriptions of the ingredients included in the Derminax dietary supplement:
Search Your Country