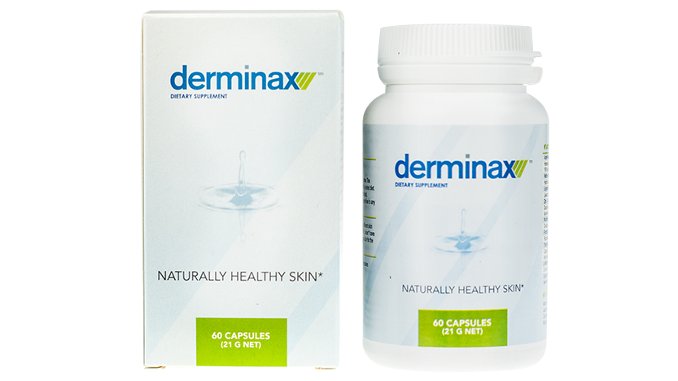 This description has been derived from the manufacturer's / distributor's website.
Contrairement aux autres traitements qui demandent l'application de différents produits tout on se conformant aux directives rigoureuses, Derminax se prend par voie orale. Ainsi, quel que soit votre planning du jour ou votre volonté, votre peau bénéficiera des soins spécialisés. Il suffit de prendre une à deux capsules par jour, et les ingrédients spéciaux traiteront vos problèmes de peau : cicatrices, points noirs, boutons acné, rosacée!
Élimine les toxines – la cause principale de l'acné. Les toxines des différents types provoquent une inflammation de la peau qui bouche les pores et conduit à la formation de l'acné. L'action de Derminax consiste à enlever les substances nocives de l'organisme. Le produit purifie ainsi le sang, et élimine les poisons qui rendent la peau inesthétique.
Élimine les dépôts, les cellules mortes et les bactéries de la peau en dégageant ainsi les pores – une autre cause de l'acné. Les saletés, les cellules mortes et les bactéries bouchent souvent les pores qu'elles transforment en boutons très douloureux. Derminax contient 4 ingrédients puissants antibactériens, antiseptiques, et les ingrédients qui empêchent l'apparition de lésions cutanées indésirables sur le visage tels que points noirs, boutons, acné, garantissant ainsi la douceur et la propreté de la peau.
Elimine les cicatrices, les boutons et autres imperfections – le résultat de l'acné installée. Les principes actifs contenus dans notre produit ont un effet tonifiant et purifiant pour la peau de toute personne majeure.
En suivant régulièrement le traitement avec la recette puissante et efficace Derminax, vous obtiendrez les premiers effets au bout de 2-4 semaines seulement, et après 3 mois de traitement, vous pouvez être certain d'avoir une peau lisse, nette et parfaite, à condition de se conformer aux instructions!
Derminax – Ingrédients
Recommended intake of this supplement: 2 capsule, daily (adults).
Compléments alimentaires similaires à Derminax
The Derminax dietary supplement is available in France and many others countries around the world. In France this supplement contains: Copper, Horsetail, Hydrolyzed Collagen, L-Cysteine, Nettle, Vitamin B1, Vitamin B12, Vitamin B2, Vitamin B3, Vitamin B5, Vitamin B6, Vitamin B7, Vitamin B9, Vitamin C, Vitamin E and Zinc in its composition.
Detailed descriptions of the ingredients included in the Derminax dietary supplement:
Search Your Country