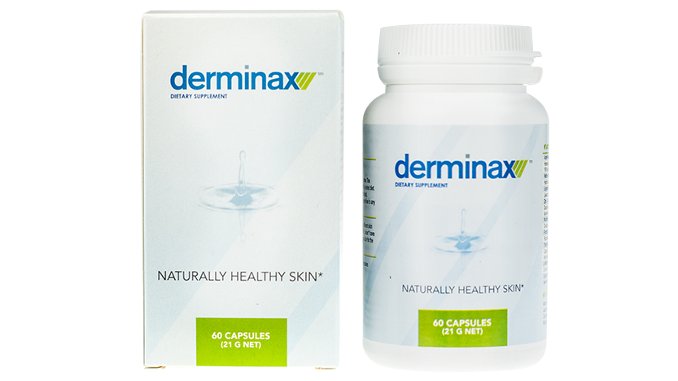 This description has been derived from the manufacturer's / distributor's website.
Atšķirībā no citām metodēm, kurām ir nepieciešama dažādu preparātu lietošana savienojumā ar stingriem noteikumiem, Derminax ir pielietots iekšķīgi. Pateicoties tam neatkarīgi no dienas grafika vai gribasspēka Tavai ādai būs nodrošināta pastāvīga, profesionāla aprūpe. Pietiek lietot 1-2 kapsulas diennaktī, un speciālas sastāvdaļas pārvarēs Tavas problēmas ar ādu!
Izvada toksīnus – galveno piņņu cēloni. Dažādu veidu toksīni izraisa mūsu ādas iekaisumus, kas ved pie poru aizsērējumiem un piņņu parādīšānas. Derminax iedarbība ir vērsta pret kaitīgām vielām, kas atrodas mūsu organismā. Preparāts attīra asins, likvidē kaitīgas vielas un palīdz tikt vaļā no pumpām.
Likvidē nogulsnes, mirušas šūnas un baktērijas no Tavas ādas porām – vēl vienu piņņu cēloni. Netīrumi, mirušas ādas šūnas un baktērijas bieži rada poru aizsērējumus un atstāj sāpīgas rētas. Derminax līdzeklis pret pumpām satur 4 efektīvas sastāvdaļas, kas ir baktericīdas, antiseptiskas un spēj novērst nevēlamas pinnes un pumpas, ļaujot saglabāt ādas gludumu un tīrību.
Likvidē rētas un citas ilgstošo piņņu pazīmes. Mūsu preparātu pret pumpām aktīvas sastāvdaļas tīroši un tonizējoši ietekmē katra pieauguša cilvēka ādu.
Regulāri pielietojot stipro un efektīvo Derminax receptūru, pirmus efektus varēsi sasniegt jau pēc 2-4 nedēļām, bet pilnīgi skaistu un gludu ādu iegūsi jau pēc 3 mēnešiem, lietojot preparātu saskaņā ar instrukciju!
Derminax – Sastāvdaļas
Recommended intake of this supplement: 2 capsule, daily (adults).
Uztura bagātinātāji līdzīgi Derminax
The Derminax dietary supplement is available in Latvia and many others countries around the world. In Latvia this supplement contains: Copper, Horsetail, Hydrolyzed Collagen, L-Cysteine, Nettle, Vitamin B1, Vitamin B12, Vitamin B2, Vitamin B3, Vitamin B5, Vitamin B6, Vitamin B7, Vitamin B9, Vitamin C, Vitamin E and Zinc in its composition.
Detailed descriptions of the ingredients included in the Derminax dietary supplement:
Search Your Country