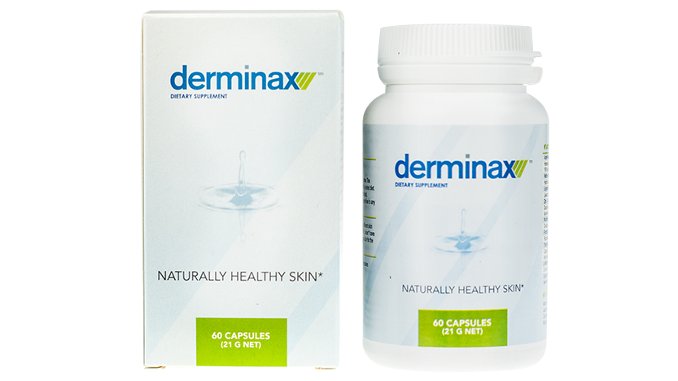 This description has been derived from the manufacturer's / distributor's website.
Kitaip nei kiti gydymo metodai, kurie reikalauja įvairių preparatų naudojimo pagal griežtus nurodymus, Derminax vartojamas oraliai. Dėl to, nepriklausomai nuo Tavo dienos tvarkaraščio ar valios, Tavo oda visada turės profesionalią apsaugą. Užteks 1 arba 2 kapsulių per dieną, o specialūs komponentai panaikins Tavo odos problemas!
Šalina toksinus – pagrindinę aknės priežastį. Įvairių rušių toksinai yra odos uždegimo priežastimi. Jie sukelia odos porų blokavimą bei aknę. Derminax veikimo tikslas – kenksmingų substancijų iš organizmo pašalinimas. Preparatas išvalo kraują nuo toksinų ir tokiu būdu pašalina nuodus, kurie darko žmogaus odą.
Pašalina Tavo odos porose susikaupusius nešvarumus, negyvas ląsteles bei bakterijas – dar vieną aknės priežastį. Purvas, negyvos odos ląstelės ir bakterijos dažnai užkemša odos poras, dėl ko jos tampa skausmingais inkštirais. Derminax turi 4 aktyvius antibakterinius, antiseptinius komponentus, kurie užkerta kelią nenorimiems odos pokyčiams, kas garantuoja odos švarumą bei glotnumą.
Pašalina randus, spuogus bei kitus odos pokyčius – ilgalaikės aknės pasekmes. Aktyvūs mūsų preparato komponentai turi valomųjų ir tonizuojančių savybių kiekvieno suaugusio žmogaus odai.
Reguliariai vartojant stiprią ir veiksmingą Derminax formulę, pirmus efektus pastebėsi jau po 2 -4 savaičių, o visiškai gražią ir glotnią odą turėsi jau po 3 mėnesių preparato naudojimo pagal nurodymus!
Derminax – Ingridientai
Recommended intake of this supplement: 2 capsule, daily (adults).
Maisto papildai, panašūs į Derminax
The Derminax dietary supplement is available in Lithuania and many others countries around the world. In Lithuania this supplement contains: Copper, Horsetail, Hydrolyzed Collagen, L-Cysteine, Nettle, Vitamin B1, Vitamin B12, Vitamin B2, Vitamin B3, Vitamin B5, Vitamin B6, Vitamin B7, Vitamin B9, Vitamin C, Vitamin E and Zinc in its composition.
Detailed descriptions of the ingredients included in the Derminax dietary supplement:
Search Your Country