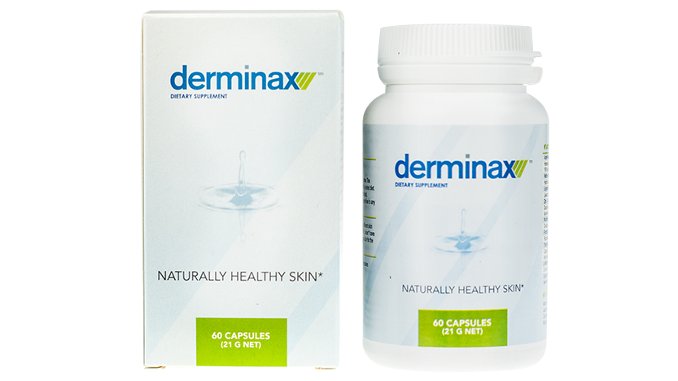 This description has been derived from the manufacturer's / distributor's website.
Spre deosebire de alte solutii pentru tratament acnee care includ si lotiuni, creme si mult timp, Derminax se ia oral. Asta inseamna ca oricat de lenesa sau ocupata ai fi vei gasi intotdeaun timp sa scapi de cosuri – tot ce trebuie sa faci este sa iei 2 pastile pe zi, iar formula noastra puternica va face restul!
Tratament pentru cosuri – Vei elimina toxinele. Prea multe toxine în organism pot duce la inflamarea pielii, ceea ce duce la aparitia acneei. Formula Derminax contine extract de coada calului si extract de urzica ce elimina substantele nocive din organism. Ele purifica sangele si in felul asta elimina si elementele nocive care fac pielea sa arate rau.
Vei elimina celulele noarte si bacteriile – cauza secundara pentru acnee rozacee. Murdăria, celulele moarte si bacteriile de multe ori infunda porii, care se transforma in pete dureroase. Formula contine ingrediente naturale puternice si vitamine, cu proprietati antibacteriene si antiseptice. Acestia previn aparitia de pete noi, si fac pielea netedă si curata.
Vei scapa de cicatrice, pete si alte denivelari – consecinte ale acneei. Ingredientele active din compozitia acestui supliment curata pielea fiecarui adult.
Formula noastra puternica incepe sa lucreze in 2-4 saptamani, acest lucru fiind demonstrat daca iei Derminax cu regularitate. Continua sa iei pilulele asa cum se recomanda pe o perioada de 3 luni ca sa obtii o piele perfect fina!
Derminax – Ingrediente
Recommended intake of this supplement: 2 capsule, daily (adults).
Derminax contains four active ingredients with antibacterial and antiseptic properties. They prevent spots from forming, making skin clean and smooth. Derminax fights the causes of acne by removing harmful toxins, bacteria and dead skin cells. It gradually removes scars and spots from your face.
Suplimentele dietetice similare cu Derminax
The Derminax dietary supplement is available in Romania and many others countries around the world. In Romania this supplement contains: Copper, Horsetail, Hydrolyzed Collagen, L-Cysteine, Nettle, Vitamin B1, Vitamin B12, Vitamin B2, Vitamin B3, Vitamin B5, Vitamin B6, Vitamin B7, Vitamin B9, Vitamin C, Vitamin E and Zinc in its composition.
Detailed descriptions of the ingredients included in the Derminax dietary supplement:
Search Your Country