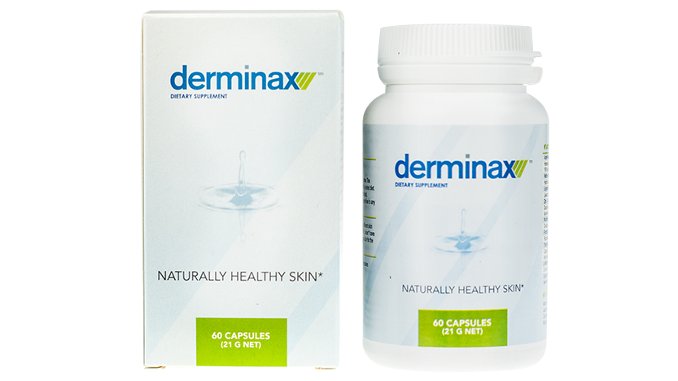 This description has been derived from the manufacturer's / distributor's website.
Ellentétben a legtöbb pattanás elleni szerrel, amelyek tartalmazhatnak különböző krémeket, folyadékokat, valamint rengeteg időbe telik a használata, a Derminax egyszerűen, szájon át szedhető. Így nem számít, mennyire vagy elfoglalt, az aknék kezelésére mindig lesz időd – mindössze egy tablettát kell szedned naponta, a többit pedig bízd a hatékony és természetes összetevőkből álló Derminaxra!
Eltávolítja a mérgeket – az akne fő okát. A szervezetünkben felhalmozódott túl sok mérgező anyag bőrgyulladáshoz vezethet, mely eltorlaszolja a pórusokat, aknét okozva. A Derminax formulája dandelion gyökeret (taraxacum officinale), bojtorján gyökeret (arctium lappa), aloe verát (aloe barbadensis) és édesgyökeret (glycyrrhiza glabra) tartalmaz, mely összetevőket régóta méregtelenítésre és a vér tisztítására használnak.
Eltávolítja a szennyeződéseket, az elhalt sejteket és a baktériumokat a pórusaidból – megszűneti az akne másodlagos okát is. A szennyeződés, az elhalt sejtek és a baktériumok gyakran eldugítják a pórusaidat, és fájdalmas pattanásokat okoznak. A Derminax formula 4 természetes baktériumölőt, fertőtlenítőt és összehuzó szert kombinál, hogy a bőröd sima legyen, tiszta, és pattanás-mentes: Echinacea purpureát, édesgyökeret (glycyrrhiza glabra), kurkuma gyökeret (curcuma longa) és cayenne gyümölcsöt (capsicum annuum).
Megszűnteti a sebeket és a pattanásokat, vagyis az akne következményeit. A vörös lóhere és a bojtorján, mely mindkettő formulánk aktív összetevője, hatékonyan segíti a sebgyógyulást és a bőr felfrissülését.
A Derminax rendszeres használata, a hathatós formulának köszönhetően, 2-4 héten belül hatni kezd. Az használati útmutatónak megfelelően szedd 3 hónapig a tablettákat a tökéletesen sima bőrért.
Derminax – Hozzávalók
Recommended intake of this supplement: 2 capsule, daily (adults).
A Derminax-hez hasonló étrend-kiegészítők
The Derminax dietary supplement is available in Hungary and many others countries around the world. In Hungary this supplement contains: Copper, Horsetail, Hydrolyzed Collagen, L-Cysteine, Nettle, Vitamin B1, Vitamin B12, Vitamin B2, Vitamin B3, Vitamin B5, Vitamin B6, Vitamin B7, Vitamin B9, Vitamin C, Vitamin E and Zinc in its composition.
Detailed descriptions of the ingredients included in the Derminax dietary supplement:
Search Your Country