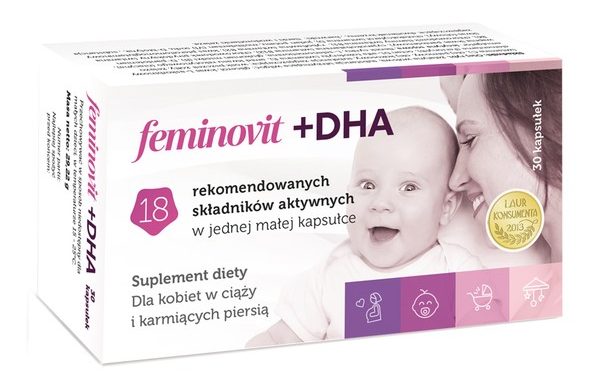 Ten opis pochodzi ze strony producenta / dystrybutora.
Feminovit + DHA Suplement diety dla kobiet w ciąży i karmiących piersią.
Feminovit + DHA to zestaw niezbędnych witamin i składników mineralnych połączony z kwasami Omega-3, stworzony z myślą o zwiększonych potrzebach żywieniowych kobiet ciężarnych i karmiących piersią. Suplement diety Feminovit + DHA to zestaw 11 witamin, 6 składników mineralnych oraz kwasów Omega-3 zamkniętych w jednej małej kapsułce. To pierwszy na polskim ryku preparat zawierający m.in. żelazo elementarne Ferronyl® o wysokiej przyswajalności oraz aż 200 mg kwasu dokozaheksaenowego (DHA).
Feminovit + DHA – Składniki
Szczegółowe informacje na temat składników suplementu Feminovit + DHA
Feminovit + DHA
Substancje odżywcze
Zawartość w 1 kapsułce
ZDS
Kwasy omega-3 (DHA)
200 mg
—
Kwasy omega-3 (EPA)
43 mg
—
Kwas foliowy
400 mcg
200%
Witamina B1 (tiamina)
1,4 mg
127%
Witamina B2 (ryboflawina)
1,5 mg
107%
Witamina B3 (niacyna)
18 mg
113%
Witamina B6
1,8 mg
129%
Witamina B12
2,6 mcg
104%
Witamina D
10 mcg
200%
Biotyna
50 mcg
100%
Kwas pantotenowy
6 mg
100%
Witamina C
80 mg
100%
Witamina E
15 mg
125%
Żelazo
27 mg
193%
Jod
150 mcg
100%
Cynk
11 mg
110%
Selen
60 mcg
109%
Miedź
1000 mcg
100%
Molibden
50 mcg
100%
Szczegóły dotyczące składu
Dla kogo przeznaczony jest suplement Feminovit + DHA?
Osoby, które mogą przyjmować suplement "Feminovit + DHA" firmy LABORATORIES SALVUM:
Dawkowanie suplementu Feminovit + DHA
Zaleca się stosować 1 kapsułkę dziennie.
Uwaga
Nie należy przekraczać zalecanej dziennej porcji.
Dla utrzymania prawidłowego stanu zdrowia należy stosować zróżnicowaną dietę i prowadzić zdrowy tryb życia.
Suplement diety nie może być stosowany jak substytut (zamiennik) zróżnicowanej diety.
Przechowywać w temperaturze pokojowej.
Suplementy diety powinny być przechowywane w sposób niedostępny dla małych dzieci.
Zobacz również: Przepisy prawa regulujące znakowanie suplementów diety
Suplementy diety podobne do Feminovit + DHA
Suplement diety Feminovit + DHA jest dostepny w Polsce. Zawiera takie składniki jak: Copper, Iodine, Molybdenum, Omega-3 Acids, Selenium, Silicon, Vitamin B1, Vitamin B12, Vitamin B2, Vitamin B3, Vitamin B5, Vitamin B6, Vitamin B7, Vitamin B9, Vitamin C, Vitamin D3, Vitamin E and Zinc.
Szczegółowy opis składników zawartych w suplemencie diety Feminovit + DHA:
Search Your Country