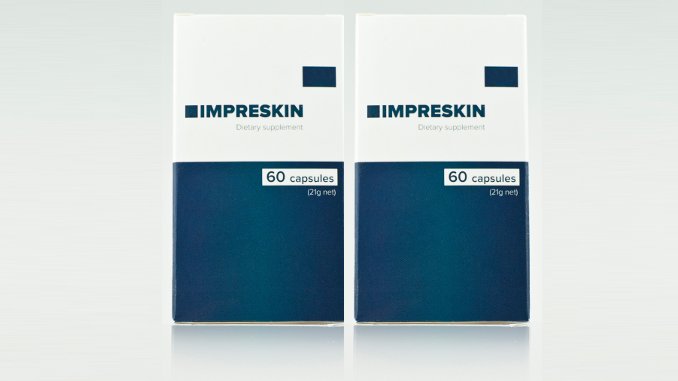 This description has been derived from the manufacturer's / distributor's website.
Impreskin je prelomno odkritje pri preparatih, ki imajo antioksidacijski vpliv. Narejen je bil z mislijo o ženskah med 35 in 65 letom. Impreskin je naraven lifting.
Klinično potrjeni rezulati – odprava staranja na celični ravni.
Mladosten videz brez operacij, brez grobih posegov, brez škodljivih kemičnih sestavin. Formula Impreskin deluje na naraven način. Brez tveganja, da bi vaš obraz izgledal umetno, kot po plastičnih operacijah.
Dermarološko testirana formula je oprta izključno na naravnih in varnih sestavinah, ki regenerirajo globoke plasti kože. Povečana izdelava kolagena povzroča, da gubice postanejo bolj plitke, popravi pa se napetost kože. Impreskin je formula, ki svoje aktivne sestavine sprošča postopoma, tako da preparat deluje preko celega dne.
Tvoja koža ni odporna na zob časa. Poleg tega ji škodijo tudi stres in vplivi okolja. Na srečo obstaja način kako ustaviti proces staranja kože in ga celo obrniti.
Impreskin vsebuje samo preverjene in testirane sestavine najvišje kakovosti. Kapsule so izdelane po najvišjih normah, da bi zagotovili njihovo učinkovitost in varnost uporabe. Znanstveniki estetske dermatologije in kozmetologije priznavajo, da je Impreskin vodilen izdelek med preparati proti staranju kože.
Impreskin – Sestavine
Prehranska dopolnila, podobna Impreskin
The Impreskin dietary supplement is available in Slovenia and many others countries around the world. In Slovenia this supplement contains: Horsetail, Hydrolyzed Collagen, L-Cysteine, Nettle, Silica, Vitamin B1, Vitamin B12, Vitamin B2, Vitamin B3, Vitamin B5, Vitamin B6, Vitamin B9, Vitamin C, Vitamin E and Zinc in its composition.
Detailed descriptions of the ingredients included in the Impreskin dietary supplement:
Search Your Country