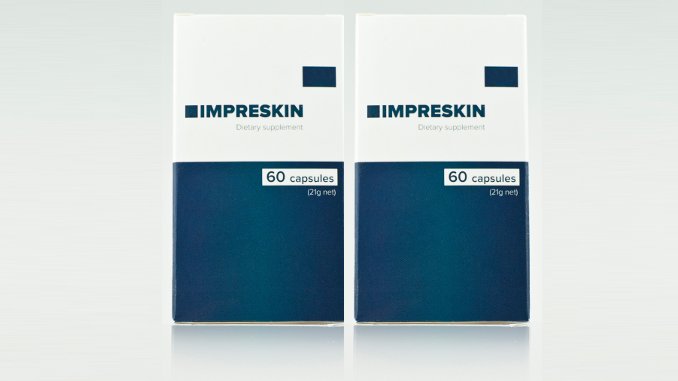 This description has been derived from the manufacturer's / distributor's website.
Impreskin is a breakthrough product among the search for the perfect antioxidant. It has been formulated for women aged 35-65. Impreskin is natural facelift.
Clinically proven results – reversing the aging process at cellular level.
Young looking skin without surgery, without invasive procedures, without harmful chemicals. Impreskin formula works naturally. Hence there is no risk that your face will look unnatural as it would look after plastic surgeries.
Dermatologically tested formula is based solely on natural and safe ingredients which regenerate deep skin layers. The boost in collagen production decreases wrinkles and improves skin firmness Impreskin's active ingredients are released slowly allowing the supplement to work 24 hours.
Your skin is not immune to time. Also stress and environmental factors have bad impact on your skin. Fortunately there is a way to stop the aging process or even to reverse it.
A detailed description of Impreskin
Impreskin contains only tested and certificated best quality ingredients. The capsules are produced to the highest quality standards to ensure efficacy and safety of use. Dermatologists and cosmetologists confirm Impreskin as the leader among anti-aging products.
Impreskin – Ingredients
Dietary supplements similar to Impreskin
The Impreskin dietary supplement is available in The United Kingdom and many others countries around the world. In The United Kingdom this supplement contains: Horsetail, Hydrolyzed Collagen, L-Cysteine, Nettle, Silica, Vitamin B1, Vitamin B12, Vitamin B2, Vitamin B3, Vitamin B5, Vitamin B6, Vitamin B9, Vitamin C, Vitamin E and Zinc in its composition.
Detailed descriptions of the ingredients included in the Impreskin dietary supplement:
Search Your Country