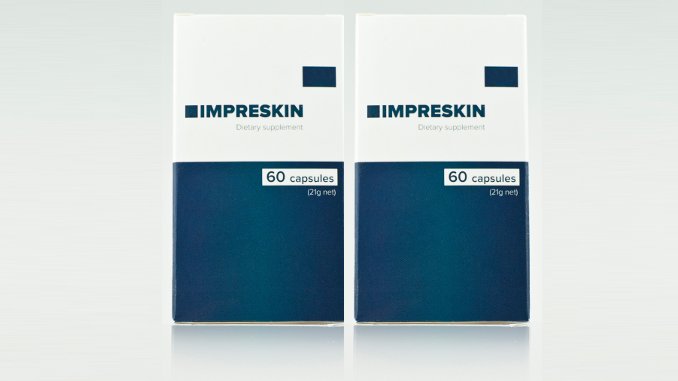 This description has been derived from the manufacturer's / distributor's website.
Impreskin é um produto inovador e um perfeito antioxidante. Foi fabricado para mulheres entre os 35-65 anos. Impreskin é um facelift natural.
Uma pele com ar jovem sem necessidade de cirugias, sem procedimentos invasivos, sem quimicos.
Impreskin é uma fórmula que actua naturalmente. Assim que não há problema em que a tua cara não fique com uma forma natural.
Fórmula dermatologicamente testada está baseada somente em ingredientes naturais que rejuvenecem até ás camadas mais profundas da tua pele. O aumento na producção do colágeno diminui as rugas e melhora a firmeza da pele. Os ingredientes activos do Impreskin são libertados pouco a pouco para permitir que o suplemento trabalhe 24 horas.
A nossa pele não é imune ao tempo. Também o stress e os factores ambientais têm um impacto negativo na tua pele. Felizmente existe uma maneira de parar o processo de envelhecimento ou até mesmo reverter-lo.
Impreskin contém apenas ingredientes testados e de alta qualidade. As cápsulas estão produzidas em alta qualidade para assegurar uma eficácia e qualidade de uso. Dermatologistas confirmam que o Impreskin é o lider entre os produtos anti-idade.
Impreskin – Ingredientes
Suplementos dietéticos semelhantes ao Impreskin
The Impreskin dietary supplement is available in Brazil and many others countries around the world. In Brazil this supplement contains: Horsetail, Hydrolyzed Collagen, L-Cysteine, Nettle, Silica, Vitamin B1, Vitamin B12, Vitamin B2, Vitamin B3, Vitamin B5, Vitamin B6, Vitamin B9, Vitamin C, Vitamin E and Zinc in its composition.
Detailed descriptions of the ingredients included in the Impreskin dietary supplement:
Search Your Country