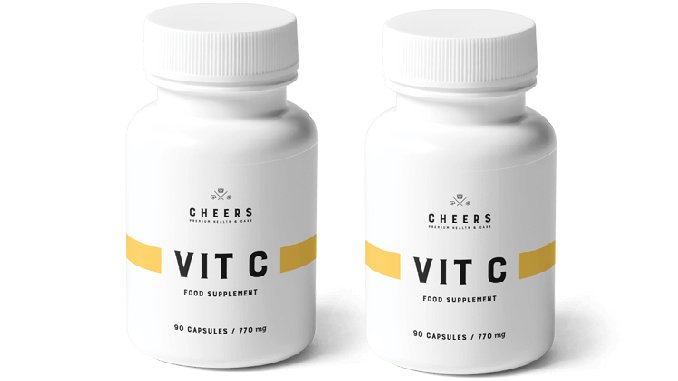 This description has been derived from the manufacturer's / distributor's website.
The Best, Highly Bioavailable And Natural Vitamin C. Vitamin C is the most well-known vitamin necessary for the body to function properly every day. Its influence isn't limited to supporting the immune system. Vitamin C takes part in the production of collagen, contributing to the proper functioning of teeth, gums, cartilage, and bones. It also beneficially affects blood vessels. Vitamin C produced by Cheers comes exclusively from the best, most natural sources that provide the widest spectrum of activity and the highest bioavailability.
Natural Vitamin C
Very high bioavailability.
Obtained through a natural extraction process from plants containing vitamin C.
Contains bioflavonoids, which are highly valuable for our body.
We do not use synthetic ascorbic acid.
Premium Quality
Enriched with ellagic acid and selenium.
Clean label product, without artificial additives, coloring agents or preservatives .
1000 mg of vitamin C from the best, most natural sources.
Highest quality HPMC vegan capsules (Vcaps® Plus) without gelling agents.
Cheers Vitamin C
Strengthens bones and joints *
Strengthens blood vessels *
Improves the immunity of the body
Strengthens gums and teeth *
* Vitamin C contributes to the proper production of collagen to ensure normal functioning of cartilage, bones, blood vessels, gums, and teeth.
Cheers – Vitamin C – Ingredients
Active Ingredients – Amount Per Dailyserving (3 Capsules)

Natural Vitamin C Blend

Rose Hip Fruit Extract (Rosa Canina L.) [70% Vitamin C] – 1214.30 Mg

Rosehips (Rosa Canina)Species:

Rosa Canina

, Family: Rosaceae, TBSI ID: IH4B87F0.

Bitter Orange Fruit Extract (Citrus Aurantium L.) [40% Vitamin C] – 250.00 Mg

Bitter Orange (Citrus Aurantium)Species:

Citrus Aurantium

, Family: Rutaceae, TBSI ID: IH2932E0.

Acerola Fruit Extract [25% Vitamin C] – 200.00 Mg

Acerola (Malpighia Emarginata)Species:

Malpighia Emarginata

, Family: Malpighiaceae, TBSI ID: IH4BAF00.

Of Which Total Vitamin C – 1000.00 Mg (1250% *NRV)

Vitamin C (C6H8O6)
Vitamin C:

Ascorbic Acid

,

L-Ascorbic Acid

,

L(+)-Ascorbic Acid

, PubChem CID: 54670067, CAS:

50-81-7

, ChemIDplus: 50-81-7, ATC code: A11GA01,

FDA Substance Registration System – Unique Ingredient Identifier:

UNII: PQ6CK8PD0R, TBSI ID: IS2D5190.

Immune Booster

Citrus Bioflavonoids – From Sweet Orange Fruit Extract (Citrus Sinensis L.) – 75.00 Mg

Sweet Orange (Citrus Sinensis)Species:

Citrus Sinensis

, Family: Rutaceae, TBSI ID: IH4BD610.

Ellagic Acid – From Pomegranate Seeds Extract (Punica Granatum) 30.00 Mg
Selenium – 55.00 μg(100% NRV*)
Dietary supplements similar to Cheers – Vitamin C
The Cheers – Vitamin C dietary supplement is available in Mauritius and many others countries around the world. In Mauritius this supplement contains: Acerola, Bitter Orange, Ellagic Acid, Rosehips, Selenium, Sweet Orange, Vcaps® Plus and Vitamin C in its composition.
Detailed descriptions of the ingredients included in the Cheers – Vitamin C dietary supplement:
Search Your Country