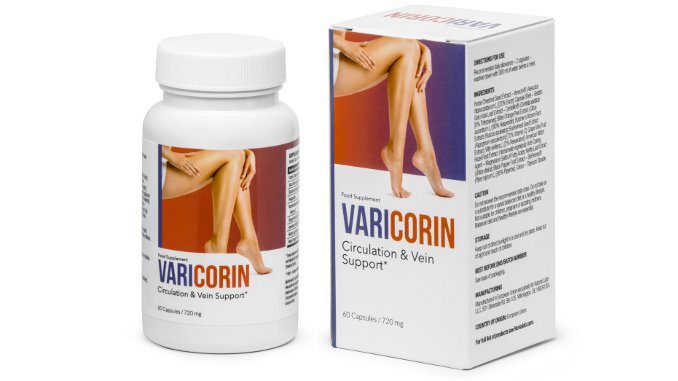 This description has been derived from the manufacturer's / distributor's website.
Varicorin è la soluzione ideale per tutti coloro che soffrono di vene varicose, gonfiore o edema delle gambe. La formula, sviluppata sulla base dei più efficaci ingredienti disponibili sul mercato, rende l'integratore particolarmente utile per la soluzione di insufficienza venosa.
Il segreto dell'efficacia di Varicorin è la sua formula avanzata, che grazie ad un effetto sinergico influisce su molti aspetti della salute dei vasi sanguigni. Gli ingredienti sono stati selezionati in modo tale da combattere i problemi più comuni che colpiscono persone con disturbi della circolazione o persone che soffrono di gambe pesanti e gonfiore.
Combatte efficacemente le vene varicose.
Riduce la sensazione di pesantezza della gambe.
Riduce il gonfiore e migliora la circolazione.
Aiuta a eliminare l'acqua in eccesso.
Migliora la salute delle pareti dei vasi sanguigni.
Gli studi clinici indicano chiaramente che gli ingredienti contenuti nel supplemento dietetico Varicorin aiutano l'aspetto delle gambe e la salute dei vasi sanguigni e fungono da ausiliari nella terapia: delle vene varicose, dell'edema delle gambe, dei capillari, delle emorroidi, della sensazione di pesantezza delle gambe.
Varicorin – Ingredienti
Recommended intake of this supplement: 2 capsule, daily (adults).
The Varicorin dietary supplement is available in Italy and many others countries around the world. In Italy this supplement contains: Aescin, BioPerine®, Bitter Orange, Black Pepper, Buckwheat, Butcher's Broom, Centellin®, Common Grape Vine, Gotu Kola, Hesperidin, Horse Chestnut, Nettle, Piperine, Resveratrol, Triterpenes, Venocin®, Vitamin C and Witch Hazel in its composition.
Detailed descriptions of the ingredients included in the Varicorin dietary supplement:
Search Your Country