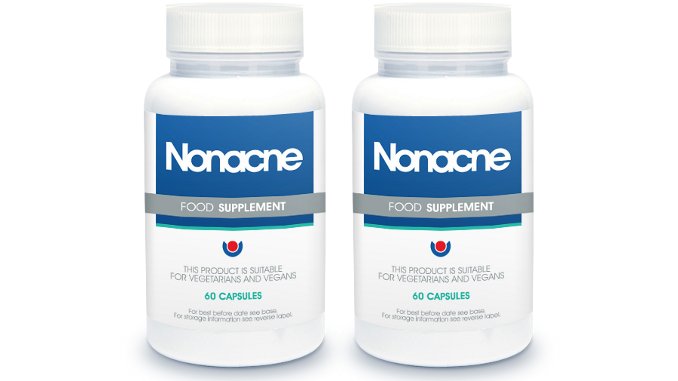 This description has been derived from the manufacturer's / distributor's website.
Nonacne je povsem naraven izdelek, ki je nastal na podlagi izključno naravnih zelišč. Učinkovito uniči vsako spremembo na koži, ne glede na izvor nastanka aken. Zaradi izdelka Nonacne boste končno imeli lepo in zdravo kožo!
Zaustavitev prekomernega izločanja olja skozi lojnice, odprtje por in protivnetno delovanje so osnovne naloge izdelka Nonacne. Zaradi delovanja sestavin postane koža zdrava, vi pa ne rabite več skrbeti za rdeče madeže na koži! Poleg tega uporaba Nonacne preprečuje pojavitev novih sprememb na koži, kot so grudice, pistule, ogrci ali ciste, ki so posledica vnetja.
Vzroke za pojavitev aken se lahko zdravi z odpravo hormonskega neravnovesja, za katerega so v primeru kožnih sprememb največkrat odgovorni androgeni. Nonacne zaradi svoje zgradbe in ustreznih sestavin omogoča odpravo celo teh težav. Nonacne učinkuje proti vsaki vrsti aken, ne glede na vzrok njihovega nastanka. Akne v boju z Nonacne nimajo možnosti!
Sestavine izdelka so bile izbrane tako, da bi skupaj učinkovale in celostno rešile težave s problematično kožo. Vsaka izmed njih izpolnjuje svojo nalogo, vendar pa skupaj zmorejo uničiti težave z vnetnimi spremembami na koži trajno in učinkovito! V tej edinstveni sestavi se nahajajo: rdeča detelja, izvleček lista velike koprive, Sersaparilla, izvleček grozdnih pečk, cink, likopen, baker in vitamini: C, A, E, B5 in B6.
Nonacne – Sestavine
Recommended intake of this supplement: 2 capsule, daily (adults).
Prehranska dopolnila, podobna Nonacne
The Nonacne dietary supplement is available in Slovenia and many others countries around the world. In Slovenia this supplement contains: Copper, Grape Seed, Lycopene, Nettle, Red Clover, Sarsparilla, Tomato, Vitamin A, Vitamin B5, Vitamin B6, Vitamin C, Vitamin E and Zinc in its composition.
Detailed descriptions of the ingredients included in the Nonacne dietary supplement:
Search Your Country