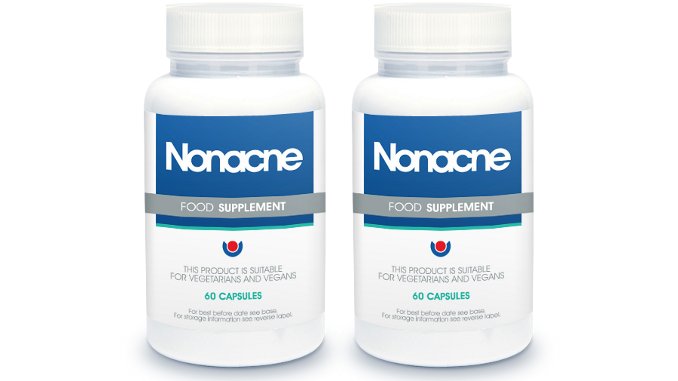 This description has been derived from the manufacturer's / distributor's website.
Nonacne is a completely natural supplement made exclusively from herbal ingredients. It is effective against acne, regardless of the nature of its origin. Thanks to Nonacne, you will finally regain a beautiful and healthy complexion!
Nonacne inhibits the excessive secretion of sebum, unblocks pores and works against skin inflammation. Thanks to these properties skin regains its healthy condition, and you do not have to worry about the red bumps on your face anymore! In addition, Nonacne helps prevent the appearance of new lesions on the face, such as papules, pustules, blackheads, or cysts, which are the result of inflammation.
Acne may also be caused by hormonal imbalance, in particular androgen imbalance as this hormone is responsible for skin problems. Nonacne, thanks to its structure and proper ingredients, can cope even with this problem. Nonacne effectively treats all types of acne, regardless of its sources! Acne has no chance against Nonacne!
A detailed description of Nonacne
The ingredients have been chosen in such a way as to work together to comprehensively solve the problems of acne skin. Each ingredient has its own task to fulfill, while in combination the ingredients solve the problem of inflammatory lesions permanently and effectively! This unique composition of Nonacne includes: red clover, sarsaparilla, grape seed extract, nettle leaves, zinc, lycopene, copper and vitamins: C, A, E, B5 and B6.
Nonacne – Ingredients
Recommended intake of this supplement: 2 capsule, daily (adults).
Dietary supplements similar to Nonacne
The Nonacne dietary supplement is available in The United States and many others countries around the world. In The United States this supplement contains: Copper, Grape Seed, Lycopene, Nettle, Red Clover, Sarsparilla, Tomato, Vitamin A, Vitamin B5, Vitamin B6, Vitamin C, Vitamin E and Zinc in its composition.
Detailed descriptions of the ingredients included in the Nonacne dietary supplement:
Search Your Country