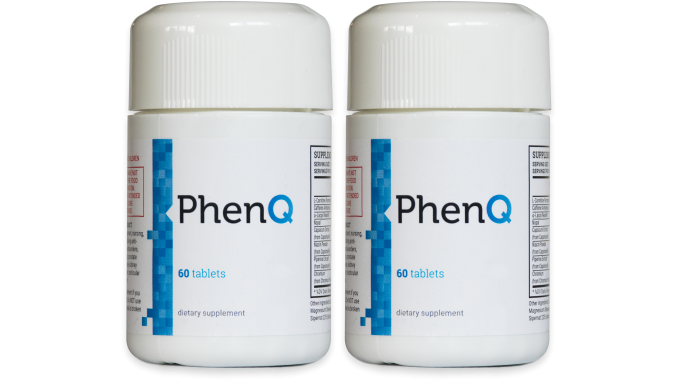 This description has been derived from the manufacturer's / distributor's website.
PhenQ is a powerful new dieting formula combining multiple weight loss benefits to help you get the slim, sexy body you've always wanted. PhenQ gives you the power of multiple weight loss supplements in just one pill.
PhenQ targets your weight loss in five different ways:
Burn fat. Speed up the fat burning process by boosting your body's metabolic and thermogenic rates to unveil a slim and sexy figure.
Stop fat production. PhenQ contains ingredients that actually help stop the production of new fat, meaning you won't need to worry about gaining weight.
Suppress your appetite. PhenQ makes calorie-cutting easy by curbing your appetite and making over-eating and hunger cravings a thing of the past.
Boost your energy. Recharge your batteries with a blend of energy-boosting ingredients designed to stop the energy dips caused by dieting.
Improve your mood. Cutting calories can leave you feeling cranky, but PhenQ's gentle mood enhancing properties ensure dieting won't take its toll on your temper.
By combining all the benefits of multiple weight loss products into just one pill, PhenQ makes losing weight straightforward, simple, and saves you spending on several products!
Using the highest quality, natural ingredients and prepared in FDA and GMP approved facilities in the US and the UK, PhenQ is the ultimate, all-in-one weight loss pill.
PhenQ – Ingredients
Recommended intake of this supplement: 2 capsule, daily (adults).

Dietary supplements similar to PhenQ
The PhenQ dietary supplement is available in The United Kingdom and many others countries around the world. In The United Kingdom this supplement contains: Alpha-Lipoic Acid, Caffeine, Capsicum, Capsimax, Chromium, L-Carnitine, L-Cysteine, Nopal, Piperine, Vitamin B3 and α-Lacys Reset® in its composition.
Detailed descriptions of the ingredients included in the PhenQ dietary supplement:
Search Your Country