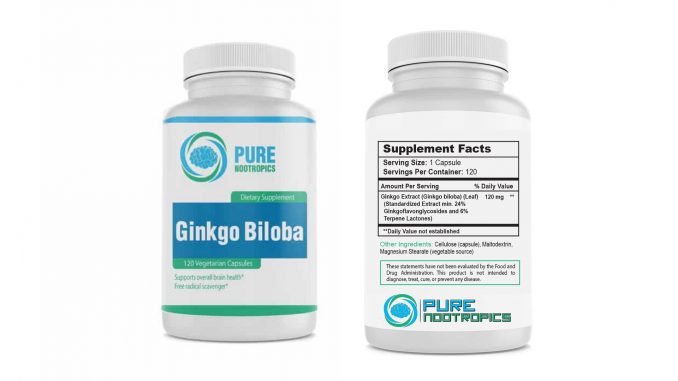 This description has been derived from the manufacturer's / distributor's website.
Ginkgo Biloba leaves contain two phytochemical compounds that are believed to provide benefits: flavonoids (plant-based antioxidants) and terpenoids. The leaves of this tree contain as many as 20 different flavonoids.
The three most abundant flavonoids are quercetin, kaempferol, and isorhamnetin. Quercetin is a molecule that is one of the most abundant flavonoids found in most people's diets. Quercetin also has anti-inflammatory and anti-allergy effects. Isorhamnetin may support a healthy cardiovascular system and is commonly found in onions. Kaempferol, due to its capability of moderating oxidative stress, is showing promise in preliminary research regarding anti-oxidants.
The terpenoids have two forms: ginkgolides and bilobalides. Ginkgolides A, B, and C may help reduce inflammation. Bilobalides are protective for the nervous system, especially for neurons and Bilobalide may help reduce inflammation as well.
Pure Nootropics Ginkgo Biloba Dosage
Pure Nootropics' Ginkgo Biloba capsules provide 120 mg of Ginkgo biloba Leaf Extract Standardized to a minimum of 24% Ginkgoflavonglycosides and 6% Terpene Lactones.
Suggested use recommended for this supplement varies from 120 mg to 240 mg per day for adults (1 to 2 capsules by mouth daily) with a meal, or as directed by your healthcare practitioner. Dosages can be split into two or more smaller doses over the course of a day and are taken with food to minimize the possibility of digestive side effects. Note: There are several pharmaceutical medications which interact with Gingko Biloba and should not be taken together. Please consult your healthcare practitioner if you are taking any medications prior to beginning supplementation with Gingko Biloba. Do not use if you are pregnant or nursing.
Pure Nootropics Ginkgo Biloba Capsules – Ingredients
Ginkgo Biloba Leaf Extract Standardized To A Minimum Of 24% Ginkgoflavonglycosides And 6% Terpene Lactones

Ginkgo Biloba (Ginkgo Biloba)Species:

Ginkgo Biloba

, Family: Ginkgoaceae, EMA: Ginkgo Folium, TBSI ID: IH34CBA0, References: LE BARS, P. L.; KATZ, M. M.; BERMAN, N.; ITIL, T. M.; FREEDMAN, A. M.; SCHATZBERG, A. F.

A placebo-controlled, double-blind, randomized trial of an extract of Ginkgo biloba for dementia. North American EGb Study Group.

Jama, 1997, 278.16: 1327-1332.

PMID

:9343463, AL-KURAISHY, Hayder M.

Central additive effect of Ginkgo biloba and Rhodiola rosea on psychomotor vigilance task and short-term working memory accuracy.

Journal of intercultural ethnopharmacology, 2016, 5.1: 7.

PMID

:27069717
Dietary supplements similar to Pure Nootropics Ginkgo Biloba Capsules
The Pure Nootropics Ginkgo Biloba Capsules dietary supplement is available in The United Kingdom and many others countries around the world. In The United Kingdom this supplement contains: Ginkgo Biloba in its composition.
Detailed descriptions of the ingredients included in the Pure Nootropics Ginkgo Biloba Capsules dietary supplement:
Search Your Country