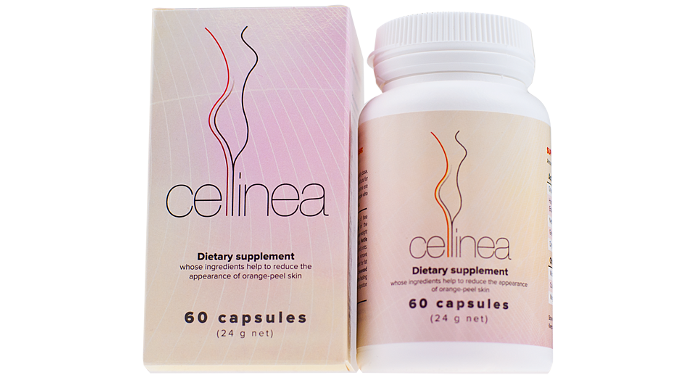 This description has been derived from the manufacturer's / distributor's website.
Cellinea no es un producto de cosmética, sino un remedio científicamente comprobado contra las causas no visibles de la celulitis en las mujeres. Regulando el metabolismo en células de grasa y haciendo los puntos de conexión más elásticos con el tejido conjuntivo, Cellinea elimina la celulitis a nivel celular.
Mejorando la salud de tu piel, Cellinea la deja más suave, más firme y más bella en el aspecto externo. Gracias a Cellinea puedes mostrar la belleza que tienes dentro a todo el mundo.
El verdadero secreto de Cellinea es una composición única y la calidad de sus componentes, la eficacia de estos ha sido comprobada en todas las pruebas médicas realizadas.
Cellinea – Ingredientes
Skin Firming Complex Cellinea

Grape Seed Extract 95% Of PAC
Extract Of Horsetail (Equisetum Arvense) 19% Silica Acid

Cola de caballo (Equisetum Arvense)Species:

Equisetum Arvense

, Family: Equisetaceae, EMA: Equiseti Herba, TBSI ID: IH273710.
Ácido silícico (H2O3Si)
Ácido silícico:

Silicic acid (H2SiO3)

,

Silicic acid

,

Silica Acid

,

Metasilicic acid

,

Acidum silicicum

, PubChem CID: 14768, CAS:

1343-98-2

, ChemIDplus: 1343-98-2, TBSI ID: IS36C770, References: Beauty: LASSUS, A.; et al.

Colloidal silicic acid for oral and topical treatment of aged skin, fragile hair and brittle nails in females.

Journal of international medical research, 1993, 21.4: 209-215.

PMID

:8112478.

Extract Of Nettle (Urtica Dioica) 1%
Green Tea 4:1
Dry Extract Of Seaweed 5:1

Seaweed (Seaweed)Species:

Seaweed

, Domain: Eukaryota, TBSI ID: IH31E570.

Additional Substances

Microcrystalline Cellulose E460
Colloidal Silica E551
Magnesium Stearate E470b
Recommended intake of this supplement: 2 capsule, daily (adults).

Suplementos dietéticos similares a Cellinea
The Cellinea dietary supplement is available in El Salvador and many others countries around the world. In El Salvador this supplement contains: Grape Seed, Green Tea, Horsetail, Nettle, Seaweed, Silica and Silica Acid in its composition.
Detailed descriptions of the ingredients included in the Cellinea dietary supplement:
Search Your Country