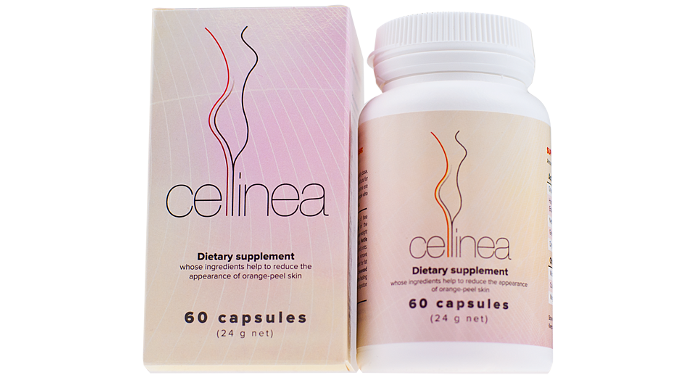 This description has been derived from the manufacturer's / distributor's website.
Cellinea ist kein kosmetisches Produkt, sondern eine wissenschaftlich bestätigte Abhilfe für die heimlichen Gründe des Entstehens von Cellulite bei Frauen. Durch das Regulieren des Metabolismus direkt in den Fettzellen und durch das Verleihen an Elastizität für die Berührungspunkte mit dem Bindegewebe, eliminiert Cellinea das Cellulite auf dem Niveau der Zellen.
Dadurch, dass Cellinea die Kondition deiner Haut verbessert, verleiht es ihr an Glätte, Straffheit und einem schöneren Erscheinungsbild der äußersten Hautschicht. Dank Cellinea kannst Du die Schönheit der ganzen Welt zeigen, die in deinem Inneren schlummert.
Das wahre Geheimnis von Cellinea ist die einzigartige Zusammenstellung und die Qualität der Inhaltsstoffe, deren Wirkungskraft medizinische Teste bestätigten.
Cellinea – Inhaltsstoffe
Skin Firming Complex Cellinea

Grape Seed Extract 95% Of PAC
Extract Of Horsetail (Equisetum Arvense) 19% Silica Acid

Schachtelhalm (Equisetum Arvense)Species:

Equisetum Arvense

, Family: Equisetaceae, EMA: Equiseti Herba, TBSI ID: IH273710.
Kieselsäure (H2O3Si)
Kieselsäure:

Silicic acid (H2SiO3)

,

Silicic acid

,

Silica Acid

,

Metasilicic acid

,

Acidum silicicum

, PubChem CID: 14768, CAS:

1343-98-2

, ChemIDplus: 1343-98-2, TBSI ID: IS36C770, References: Beauty: LASSUS, A.; et al.

Colloidal silicic acid for oral and topical treatment of aged skin, fragile hair and brittle nails in females.

Journal of international medical research, 1993, 21.4: 209-215.

PMID

:8112478.

Extract Of Nettle (Urtica Dioica) 1%
Green Tea 4:1
Dry Extract Of Seaweed 5:1

Seaweed (Seaweed)Species:

Seaweed

, Domain: Eukaryota, TBSI ID: IH31E570.

Additional Substances

Microcrystalline Cellulose E460
Colloidal Silica E551
Magnesium Stearate E470b
Recommended intake of this supplement: 2 capsule, daily (adults).

Nahrungsergänzungsmittel ähnlich Cellinea
The Cellinea dietary supplement is available in Luxembourg and many others countries around the world. In Luxembourg this supplement contains: Grape Seed, Green Tea, Horsetail, Nettle, Seaweed, Silica and Silica Acid in its composition.
Detailed descriptions of the ingredients included in the Cellinea dietary supplement:
Search Your Country