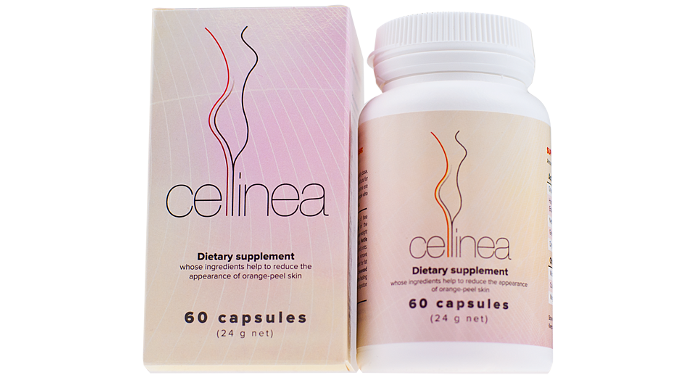 This description has been derived from the manufacturer's / distributor's website.
Cellinea is not a cosmetic product; it is a scientifically proven treatment for the underlying causes of cellulite in women. By balancing the harmful agents in your fat cells and enhancing the flexibility of 'shearing points' where fat cells abut connective tissue, Cellinea eliminates cellulite at the cellular level.
Improving the health of your skin and resulting in smoother, softer, more beautiful epidermal surface appearance as well. With Cellinea you can finally show off your inner beauty to the outside world.
The secret is in the ingredients – they're all carefully selected and of the highest quality. They were clinically tested and proven to be effective.
Cellinea – Ingredients
Skin Firming Complex Cellinea

Grape Seed Extract 95% Of PAC
Extract Of Horsetail (Equisetum Arvense) 19% Silica Acid

Horsetail (Equisetum Arvense)Species:

Equisetum Arvense

, Family: Equisetaceae, EMA: Equiseti Herba, TBSI ID: IH273710.
Silica Acid (H2O3Si)
Silica Acid:

Silicic acid (H2SiO3)

,

Silicic acid

,

Metasilicic acid

,

Acidum silicicum

, PubChem CID: 14768, CAS:

1343-98-2

, ChemIDplus: 1343-98-2, TBSI ID: IS36C770, References: Beauty: LASSUS, A.; et al.

Colloidal silicic acid for oral and topical treatment of aged skin, fragile hair and brittle nails in females.

Journal of international medical research, 1993, 21.4: 209-215.

PMID

:8112478.

Extract Of Nettle (Urtica Dioica) 1%
Green Tea 4:1
Dry Extract Of Seaweed 5:1

Seaweed (Seaweed)Species:

Seaweed

, Domain: Eukaryota, TBSI ID: IH31E570.

Additional Substances

Microcrystalline Cellulose E460
Colloidal Silica E551
Magnesium Stearate E470b
Recommended intake of this supplement: 2 capsule, daily (adults).

Dietary supplements similar to Cellinea
The Cellinea dietary supplement is available in The United Kingdom and many others countries around the world. In The United Kingdom this supplement contains: Grape Seed, Green Tea, Horsetail, Nettle, Seaweed, Silica and Silica Acid in its composition.
Detailed descriptions of the ingredients included in the Cellinea dietary supplement:
Search Your Country