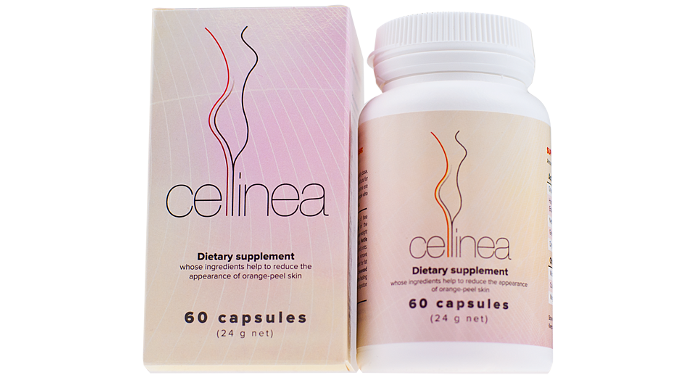 Ten opis pochodzi ze strony producenta / dystrybutora.
Cellinea nie jest produktem kosmetycznym, tylko naukowo potwierdzonym remedium na niewidoczne przyczyny cellulitu u kobiet. Regulując metabolizm w samych komórkach tłuszczowych i nadając elastyczność punktom ich styczności z tkanką łączną, Cellinea eliminuje cellulit na poziomie komórkowym.
Poprawiając zdrowie Twojej skóry, Cellinea nadaje jej gładkość, jędrność oraz piękny wygląd w zewnętrznej warstwie. Dzięki Cellinea możesz ujawnić piękno, jakie tkwi w Twoim wnętrzu i pokazać je całemu światu.
Prawdziwym sekretem Cellinea jest unikalny dobór i jakość zawartych w niej składników, których wysoką skuteczność potwierdziły przeprowadzone testy medyczne.
Cellinea – Składniki
Skin Firming Complex Cellinea

Grape Seed Extract 95% Of PAC
Extract Of Horsetail (Equisetum Arvense) 19% Silica Acid

Skrzyp Polny (Equisetum Arvense)Species:

Equisetum Arvense

, Family: Equisetaceae, EMA: Equiseti Herba, TBSI ID: IH273710.
Kwas krzemowy (H2O3Si)
Kwas krzemowy:

Silicic acid (H2SiO3)

,

Silicic acid

,

Silica Acid

,

Metasilicic acid

,

Acidum silicicum

, PubChem CID: 14768, CAS:

1343-98-2

, ChemIDplus: 1343-98-2, TBSI ID: IS36C770, References: Beauty: LASSUS, A.; et al.

Colloidal silicic acid for oral and topical treatment of aged skin, fragile hair and brittle nails in females.

Journal of international medical research, 1993, 21.4: 209-215.

PMID

:8112478.

Extract Of Nettle (Urtica Dioica) 1%
Green Tea 4:1
Dry Extract Of Seaweed 5:1

Seaweed (Seaweed)Species:

Seaweed

, Domain: Eukaryota, TBSI ID: IH31E570.

Additional Substances

Microcrystalline Cellulose E460
Colloidal Silica E551
Magnesium Stearate E470b
Recommended intake of this supplement: 2 capsule, daily (adults).

Suplementy diety podobne do Cellinea
Suplement diety Cellinea jest dostępny w Polsce i wielu innych krajach na całym świecie. W Polsce ten suplement zawiera w swoim składzie następujące składniki: Grape Seed, Green Tea, Horsetail, Nettle, Seaweed, Silica and Silica Acid.
Szczegółowy opis składników zawartych w suplemencie diety Cellinea:
Search Your Country