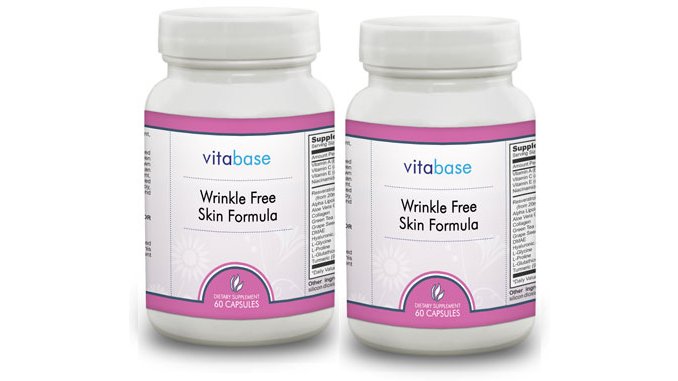 This description has been derived from the manufacturer's / distributor's website.
Vitabase Wrinkle Free Skin Formula provides a high potency combination of ingredients which are believed to promote healthier and younger looking skin.
Loaded with Antioixdants to fight the damaging effects of free radicals in the body.
Contains combination of ingredients to help maintain healthy skin, and fight wrinkles.
Wrinkle Free Skin Formula – Ingredients
Label
Suggested Use: As a dietary supplement, take two (2) capsules daily with meals.
Components
Per Serving
(2 Capsule(s))
% DV
Vitamin A (as beta carotene)
2500 iu
50%
Vitamin C (ascorbic acid)
120 mg
200%
Vitamin E (d-alpha tocopherol)
30 iu
100%
Niacinamide
40 mg
200%
Resveratrol (15-20% polygonum cuspidatum)
10 mg
*
Alpha Lipoic Acid
300 mg
*
Aloe Vera Gel (200:1 Concentrate)
200 mg
*
Collagen
150 mg
*
Green Tea (50% Extract)
100 mg
*
Grape Seed (95% Extract)
100 mg
*
DMAE
100 mg
*
Hyaluronic Acid
5 mg
*
L-Glycine
100 mg
*
L-Proline
100 mg
*
L-Glutathione Reduced
20 mg
*
Turmeric Extract (95% curcuminoids)
50 mg
*
* Daily Value Not Established
Serving Size: 2 Capsule(s)
Quantity/Size: 60 Capsules
Caution: Do not exceed recommended dose. Pregnant or nursing mothers, children under 18, and individuals with a known medical condition should consult a physician before using this or any dietary supplement.
Dietary supplements similar to Wrinkle Free Skin Formula
The Wrinkle Free Skin Formula dietary supplement is available in The United Kingdom and many others countries around the world. In The United Kingdom this supplement contains: Aloe Vera, Alpha-Lipoic Acid, Collagen, DMAE, Grape Seed, Green Tea, Hyaluronic Acid, L-Glutathione, L-Glycine, L-Proline, Resveratrol, Reynoutria Japonica, Turmeric, Vitamin A, Vitamin B3, Vitamin C and Vitamin E in its composition.
Detailed descriptions of the ingredients included in the Wrinkle Free Skin Formula dietary supplement:
Search Your Country