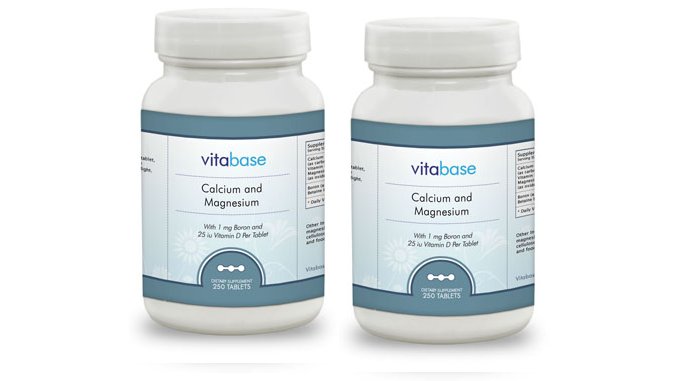 This description has been derived from the manufacturer's / distributor's website.
This high potency calcium product combines three different kinds of calcium, vitamin D, magnesium and boron into 1 capsule. Since different people handle calcium types in various ways, calcium citrate, calcium carbonate, and chelated calcium are all included. This calcium product provides a 2:1 calcium to magnesium ratio. Two capsules provide 1000 mg of calcium and 500 mg of magnesium.
Important minerals for strong teeth and bones.
Contains optimum 2:1 calcium to magnesium ratio.
Contains three types of calcium (citrate, carbonate and chelated calcium) for maximum benefit.
Many people do not get adequate amounts of either mineral in their diets.
Provides 500 mg of calcium and 250 mg of magnesium per serving.
Vitabase – Calcium & Magnesium – Ingredients
Label
Suggested Use: As a dietary supplement, adults take one (1) tablet, two (2) times daily with meals, or as directed by a health care professional. Store in a cool, dry place and away from direct light.
Components
Per Serving
(1 Tablet(s))
% DV
Calcium (as carbonate,citrate,amino acid chelate)
500 mg
50%
Vitamin D (as cholecalciferol)
25 iu
6%
Magnesium (as oxide,citrate,amino acid chelate)
250 mg
63%
Boron (as citrate, aspartate, glycinate)
1 mg
*
Betaine Hydrochloride
25 mg
*
* Daily Value Not Established
Serving Size: 1 Tablet(s)
Quantity/Size: 100 Tablets
Caution: Keep out of reach of children.
Dietary supplements similar to Vitabase – Calcium & Magnesium
The Vitabase – Calcium & Magnesium dietary supplement is available in The United Kingdom and many others countries around the world. In The United Kingdom this supplement contains: Betaine, Boron, Calcium, Magnesium and Vitamin D3 in its composition.
Detailed descriptions of the ingredients included in the Vitabase – Calcium & Magnesium dietary supplement:
Search Your Country