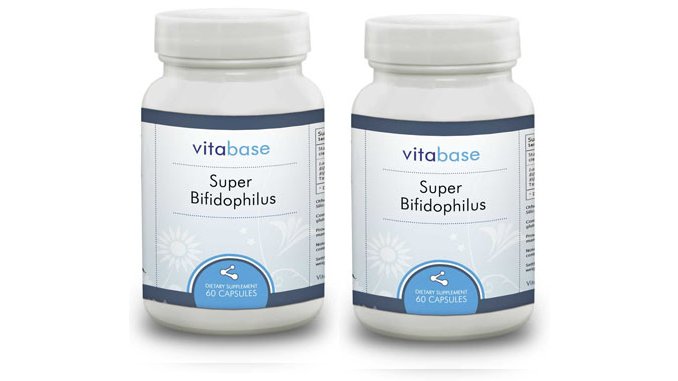 This description has been derived from the manufacturer's / distributor's website.
Vitabase Super Bifidophilus is a probiotic. It contains live bacteria which can help restore beneficial bacteria to the colon. The "friendly" bacteria in the colon can help restore the digestive system to a proper balance and improve overall health. Super Bifidophilus is a very powerful acidophilus product, containing over 8 billion microorganisms per capsule. This high potency product is a balanced blend of the two prominent species of intestinal bacteria – L acidophilus and bifidus.
A very powerful acidophilus product.
Contains balanced blend of two species of intestinal bacteria.
Helps maintain healthy intestinal flora.
Supports a healthy immune system.
Super Bifidophilus – Ingredients
Lactobacillus Acidophilus
Bifidobacterium Lactis
Bifidobacterium Longum
Label
Suggested Use: As a dietary supplement, take 1 capsule 1 to 2 times daily between meals or on an empty stomach.
Components
Per Serving
(1 Capsule(s))
% DV
Lactobacillus acidophilus
4 billion
*
Bifidobacterium lactis
3.2 billion
*
Bifidobacterium longum
0.8 billion
*
Total Minimum Microorganisms
8 billion
*
* Daily Value Not Established
Serving Size: 1 Capsule(s)
Quantity/Size: 60 capsules
Dietary supplements similar to Super Bifidophilus
The Super Bifidophilus dietary supplement is available in The United Kingdom and many others countries around the world. In The United Kingdom this supplement contains: Bifidobacterium Lactis, Bifidobacterium Longum and Lactobacillus Acidophilus in its composition.
Detailed descriptions of the ingredients included in the Super Bifidophilus dietary supplement:
Search Your Country