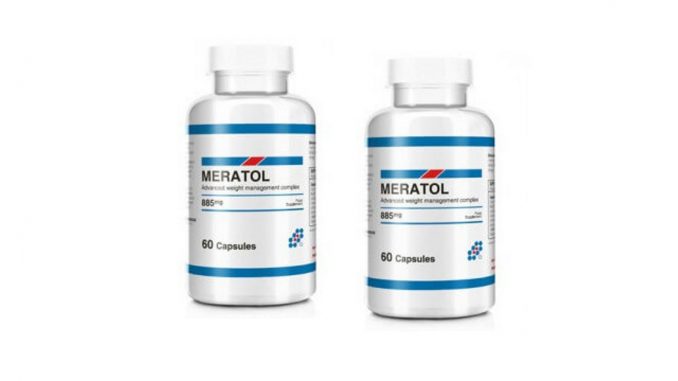 This description has been derived from the manufacturer's / distributor's website.
A perda de peso é um desafio para a maioria das pessoas. Você não apenas combate à gordura que teima em acumular, mas você também enfrenta o aumento de apetite, a diminuição dos níveis de energia e um metabolismo potencialmente lento. O Meratol foi projetado para ajudar você a superar esses desafios.
Acelere a perda de peso com um suplemento projetado para fazer tudo
Aumenta o metabolismo causando uma perda de peso mais rápida.
Ampara os processos de eliminação de gordura do corpo.
Aumenta a imunidade da saúde geral e bem-estar.
Controla o apetite para reduzir a ingestão de calorias.
Maximiza os níveis de energia a fim de queimar calorias adicionais.
Acelera a digestão tornando a quebra de gordura mais rápida.
Com uma mistura de ingredientes poderosos, o Meratol foi projetado para lidar com todos os aspectos da perda de peso a fim de tornar o gerenciamento de apetite, o aumento do metabolismo, o aumento da energia e a eliminação de gordura simples para você. Quando usado juntamente com uma dieta saudável e com atividade física regular, a perda de peso que você nunca imaginou ser possível acontecerá de forma simples.
Se você está cansado de fazer dieta após a dieta, então o Meratol é a solução que ajudará você a perder o seu peso e a mantê-lo afastado.
Isso significa que a perda de peso acontecerá para todo mundo, não importa o quão difícil tenha sido no passado.
This means weight loss for everyone, no matter how difficult doing so has been in the past.
Meratol – Ingredientes
Capsule Serving Provides 885mg

Cactinea Powder 66mg
Nopal 200mg

Nopal (Opuntia Ficus Indica)


O cato nopálea é rico em fibras e ajuda a obter mais controlo sobre o seu apetite. Para além disso, é também extremamente rico em aminoácidos, proporcionando-lhe energia essencial para o seu processo de perda de peso, e ajuda a reduzir o peso extra causado pela retenção de líquidos nas células de gordura, enviando estes para a corrente sanguínea para mais energia. O nopal ajuda a regular o apetite e a diminuir a gordura corporal amparando os processos de perda de gordura natural do seu corpo que quebram e excretar a gordura. O extrato pertence à família da opuntia e é rico em minerais essenciais como o potássio, cálcio, magnésio, sódio e ferro juntamente com 18 aminoácidos e fibras.

Species:

Opuntia Ficus Indica

, Family: Cactaceae, TBSI ID: IH334500

Ascophyllum Nodosum 316mg

Kelp (Ascophyllum Nodosum)


Conhecido pela sua capacidade de amparar a perda de peso através da manutenção do metabolismo aumentando a imunidade. Ele reduz o acúmulo de gordura, ajudando você a se concentrar em perder o excesso de gordura que já é detido pelo seu corpo.

Species:

Ascophyllum Nodosum

, Family: Alariaceae, TBSI ID: IH4D35A0

Capsicum Plus Blend 90mg

Capsicum (Capsicum Annuum)


Extrato de frutos de Capsicum annuum (pimenta-caiena): apresenta efeitos benéficos à redução do peso corporal, protege o estômago no caso de contacto com substâncias com propriedades irritantes. Extrato de páprica auxilia o trabalho do sistema digestivo, protegendo o estomago. Ativa a queima de gordura.

Species:

Capsicum Annuum

, Family: Solanaceae, EMA: Capsici Fructus, TBSI ID: IH2BCAF0, References: WHITING, Stephen; DERBYSHIRE, Emma; TIWARI, B. K.

Capsaicinoids and capsinoids. A potential role for weight management? A systematic review of the evidence.

Appetite, 2012, 59.2: 341-348.

PMID

:22634197, VARGHESE, Sharon; et al.

Chili pepper as a body weight-loss food.

International journal of food sciences and nutrition, 2017, 68.4: 392-401.

PMID

:27899046

Anhydrous Caffeine 25mg

Cafeína (C8H10N4O2)


Cafeína aumenta energia instantaneamente, aumenta a concentração e melhora a resistência. Permite a pratica prolongada de exercícios e ajuda a obter melhores resultados.

Cafeína:

Caffeine

,

1,3,7-Trimethylxanthine

,

Thein

, PubChem CID: 2519, CAS:

58-08-2

, ChemIDplus: 58-08-2, ATC code: N06BC01, TBSI ID: IS2C8E40, Caffeine – References: TABRIZI, R.; SANEEI, P.; LANKARANI, K. B.; AKBARI, M.; KOLAHDOOZ, F.; ESMAILLZADEH, A.; NADI-RAVANDI, S.; MAZOOCHI, M.; ASEMI, Z.

The effects of caffeine intake on weight loss: a systematic review and dos-response meta-analysis of randomized controlled trials.

Critical reviews in food science and nutrition, 2018, 2018: 1-9.

PMID

:30335479, SMITH, Andrew

Effects of caffeine on human behavior.

Food and chemical toxicology, 2002, 40.9: 1243-1255.

PMID

:12204388

Medicago Sativa L 45mg
Gelatin Shell 125mg
Magnesium Stearate (vegetable)

Magnésio (estearato de magnesio) (C36H70MgO4 or Mg(C18H35O2)2)
Magnésio (estearato de magnesio):

Magnesium Stearate

,

Magnesium Octadecanoate

,

Magnesium Distearate

,

Synpro 90

,

Stearic acid, magnesium salt

,

Magnesium Dioctadecanoate

, PubChem CID: 11177, CAS:

557-04-0

, ChemIDplus: 557-04-0, TBSI ID: IS371590-2
Recommended intake of this supplement: 2 capsule, daily (adults).
Suplementos dietéticos semelhantes ao Meratol
The Meratol dietary supplement is available in Portugal and many others countries around the world. In Portugal this supplement contains: Alfalfa, Caffeine, Capsicum, Kelp, Magnesium and Nopal in its composition.
Detailed descriptions of the ingredients included in the Meratol dietary supplement:
Search Your Country