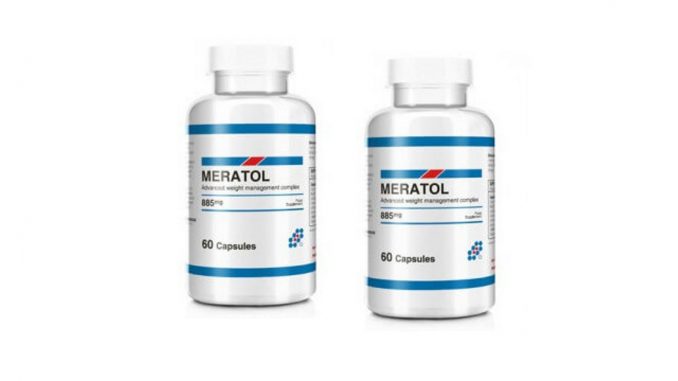 This description has been derived from the manufacturer's / distributor's website.
La pérdida de peso es un reto para la mayoría de personas. No solo se debe luchar contra la grasa acumulada en el organismo, también hay que controlar el creciente apetito, combatir los bajos niveles de energía y, en muchas ocasiones, estimular a los metabolismos lentos. Meratol ha sido formulado para ayudarle a conseguir estos retos.
Acelera Tu Pérdida de Peso con un Suplemento Formulado Para Conseguirlo
Aumenta el ritmo metabólico para adelgazar más rápido.
Ayuda al cuerpo en el proceso de eliminar la grasa acumulada.
Acelera la digestión para desechar la grasa más rápido.
Controla el apetito para reducir la ingesta de calorías.
Incrementa las defensas para una sensación de bienestar y salud general.
Maximiza los niveles de energía para quemar más calorías.
Con una fórmula patentada de potentes ingredientes, Meratol se ha creado para dar solución a todos los problemas habitualmente asociados al proceso de adelgazar, de forma que usted podrá controlar su apetito, aumentar el ritmo metabólico, sentirse lleno de energía y eliminar la grasa acumulada de forma sencilla. Si lo toma junto con una dieta equilibrada y realiza ejercicio físico de forma regular, adelgazará como nunca antes lo había hecho, rápido y sencillo.
Si está cansado de probar todo tipo de dietas, Meratol puede ayudarle a adelgazar y mantenerse en su peso adecuado.
Los resultados más efectivos de Meratol se obtienen al combinarlo con una dieta equilibrada y actividad física. Si usted ya ha probado llevar una dieta saludable y realizar ejercicio físico, y no ha tenido éxito al perder peso, la fórmula única de ingredientes que incluye Meratol le ayudará a eliminar la sensación de apetito, aumentar su energía, aumentar el ritmo de su metabolismo y eliminar la acumulación de grasa en su organismo estimulando el proceso natural de excreción. Cualquier persona puede adelgazar con este suplemento, sin importar lo difícil que haya sido perder peso antes.
Meratol – Ingredientes
Capsule Serving Provides 885mg

Cactinea Powder 66mg
Nopal 200mg

Nopal (Opuntia Ficus-Indica)Species:

Opuntia Ficus-Indica

, Family: Cactaceae, Domain: Plantae, TBSI ID: IH334500.

Ascophyllum Nodosum 316mg

Norwegian Kelp (Ascophyllum Nodosum)


Conocido por su poder para ayudar en la pérdida de peso, mantener el estado metabólico e incrementar las defensas. Reduce la acumulación de grasa, ayudando a eliminar la grasa acumulada en el organismo.

Species:

Ascophyllum Nodosum

, Family: Alariaceae Fucaceae, TBSI ID: IHCD6220.

Capsicum Plus Blend 90mg

Capsicum (Capsicum Annuum)


La cayena en polvo no es solo una especia para tus recetas favoritas. La comida picante aumenta la temperatura corporal y fuerza al cuerpo a gastar energía (calorías) para enfriarse. Si se consume diariamente, la Cayena en polvo puede aumentar el ritmo metabólico hasta un 25% a la vez que promueve una digestión saludable y mantiene la buena presión arterial. Extracto del fruto del pimiento chile (pimienta cayena): influye positivamente en la reducción del peso corporal, protege el estómago en caso de contacto con sustancias irritantes. Extracto de pimiento morrón acelera la actividad del aparato digestivo, protege el estómago. Activa la quema de las reservas de grasa.

Species:

Capsicum Annuum

, Family: Solanaceae, EMA: Capsici Fructus, TBSI ID: IH2BCAF0, References: Weight Loss: WHITING, Stephen; DERBYSHIRE, Emma; TIWARI, B. K.

Capsaicinoids and capsinoids. A potential role for weight management? A systematic review of the evidence.

Appetite, 2012, 59.2: 341-348.

PMID

:22634197.

Anhydrous Caffeine 25mg

Cafeína (C8H10N4O2)


La cafeína no es sólo un fantástico ingrediente para reducir la fatiga y aumentar el nivel de alerta (como lo hace tu taza de café matinal). También estimula la termogénesis, ayudándote a adelgazar al aumentar la temperatura interna de tu cuerpo. Incluso puede ayudarte a controlar el apetito de forma que te cueste menos seguir con tu plan de alimentación saludable. Cafeína proporciona energía de forma inmediata, aumenta la concentración y mejora la resistencia. Permite hacer más ejercicio y alcanzar unos mejores resultados.

Cafeína:

Caffeine

,

1,3,7-Trimethylxanthine

,

Thein

, PubChem CID: 2519, CAS:

58-08-2

, ChemIDplus: 58-08-2, ATC code: N06BC01, TBSI ID: IS2C8E40, References: Weight Loss: TABRIZI, R.; SANEEI, P.; LANKARANI, K. B.; AKBARI, M.; KOLAHDOOZ, F.; ESMAILLZADEH, A.; NADI-RAVANDI, S.; MAZOOCHI, M.; ASEMI, Z.

The effects of caffeine intake on weight loss: a systematic review and dos-response meta-analysis of randomized controlled trials.

Critical reviews in food science and nutrition, 2018, 2018: 1-9.

PMID

:30335479.

Medicago Sativa L 45mg
Gelatin Shell 125mg
Magnesium Stearate (vegetable)

Magnesio (estearato de magnesio) (C36H70MgO4 or Mg(C18H35O2)2)
Magnesio (estearato de magnesio):

Magnesium Stearate

,

Magnesium Octadecanoate

,

Magnesium Distearate

,

Synpro 90

,

Stearic acid, magnesium salt

,

Magnesium Dioctadecanoate

, PubChem CID: 11177, CAS:

557-04-0

, ChemIDplus: 557-04-0, TBSI ID: IS371590-2.
Recommended intake of this supplement: 2 capsule, daily (adults).
Suplementos dietéticos similares a Meratol
The Meratol dietary supplement is available in Argentina and many others countries around the world. In Argentina this supplement contains: Alfalfa, Caffeine, Capsicum, Magnesium, Nopal and Norwegian Kelp in its composition.
Detailed descriptions of the ingredients included in the Meratol dietary supplement:
Search Your Country