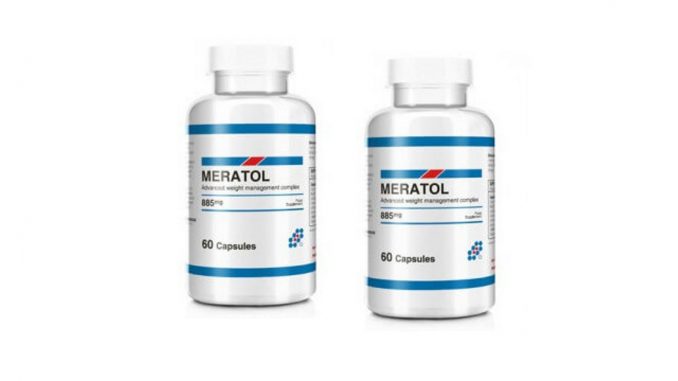 This description has been derived from the manufacturer's / distributor's website.
Weight loss is a challenge for the majority of people. Not only are you combating stubborn stored fat, but you're also facing an increased appetite, diminished energy levels, and a potentially slow metabolism. Meratol was designed to help you overcome these challenging issues.
Accelerate Your Weight Loss With A Supplement Designed To Do It All
Increase metabolism for faster weight loss.
Supports the body's fat excretion processes.
Accelerate digestion for quicker fat breakdown.
Appetite control to reduce calorie intake.
Boost immunity for overall health and wellbeing.
Maximise energy levels for additional calorie burn.
With a proprietary blend of powerful ingredients, Meratol is designed to address all aspects of weight loss to make managing your appetite, boosting your metabolism, increasing your energy, and fat excretion simple. When used in conjunction with a healthy diet and regular physical activity, the weight loss you never thought possible suddenly becomes simple.
If you're tired of diet after diet, Meratol can help you lose weight and keep it off.
Meratol works best when combined with regular physical activity and a healthy diet. If you've been working out and eating right without losing weight, Meratol's one-of-a-kind blend of ingredients will suppress your appetite, increase energy, boost your metabolism, and aid in the body's natural fat excretion processes.
This means weight loss for everyone, no matter how difficult doing so has been in the past.
Meratol – Ingredients
Capsule Serving Provides 885mg

Cactinea Powder 66mg
Nopal 200mg

Nopal (Opuntia Ficus-Indica)Species:

Opuntia Ficus-Indica

, Family: Cactaceae, Domain: Plantae, TBSI ID: IH334500.

Ascophyllum Nodosum 316mg

Norwegian Kelp (Ascophyllum Nodosum)


Known for its ability to support weight loss by maintaining the metabolism while increasing immunity. It reduces the accumulation of fat, helping you focus on losing excess fat already being held by your body.

Species:

Ascophyllum Nodosum

, Family: Alariaceae Fucaceae, TBSI ID: IHCD6220.

Capsicum Plus Blend 90mg

Capsicum (Capsicum Annuum)


Cayenne powder isn't just an ingredient for your favorite dishes. Spicy food increases your body temperature, forcing the body to expend energy (calories) to cool down. Consumed daily, Cayenne powder can increase metabolic rates by up to 25%. Cayenne Pepper Fruit Extract: has a positive impact on weight reduction, protects the stomach in case of contact with corrosive substances. Capsicum annuum extract supports the work of the digestive system, shielding the stomach. Activates fat reserves burning.

Species:

Capsicum Annuum

, Family: Solanaceae, EMA: Capsici Fructus, TBSI ID: IH2BCAF0, References: Weight Loss: WHITING, Stephen; DERBYSHIRE, Emma; TIWARI, B. K.

Capsaicinoids and capsinoids. A potential role for weight management? A systematic review of the evidence.

Appetite, 2012, 59.2: 341-348.

PMID

:22634197.

Anhydrous Caffeine 25mg

Caffeine (C8H10N4O2)


Caffeine isn't just a great ingredient to reduce fatigue and increase alertness and focus (as would your favorite cup of coffee). It also stimulates thermogenesis, slimming you down by turning up your body's internal temperature. It can even reduce your appetite, helping you stay on track with your healthy eating choices. Caffeine instantly energizes, increases concentration and improves endurance. It allows you to practice longer and achieve better results.

Caffeine:

Caffeine

,

1,3,7-Trimethylxanthine

,

Thein

, PubChem CID: 2519, CAS:

58-08-2

, ChemIDplus: 58-08-2, ATC code: N06BC01, TBSI ID: IS2C8E40, References: Weight Loss: TABRIZI, R.; SANEEI, P.; LANKARANI, K. B.; AKBARI, M.; KOLAHDOOZ, F.; ESMAILLZADEH, A.; NADI-RAVANDI, S.; MAZOOCHI, M.; ASEMI, Z.

The effects of caffeine intake on weight loss: a systematic review and dos-response meta-analysis of randomized controlled trials.

Critical reviews in food science and nutrition, 2018, 2018: 1-9.

PMID

:30335479.

Medicago Sativa L 45mg
Gelatin Shell 125mg
Magnesium Stearate (vegetable)

Magnesium (magnesium stearate) (C36H70MgO4 or Mg(C18H35O2)2)
Magnesium (magnesium stearate):

Magnesium Stearate

,

Magnesium Octadecanoate

,

Magnesium Distearate

,

Synpro 90

,

Stearic acid, magnesium salt

,

Magnesium Dioctadecanoate

, PubChem CID: 11177, CAS:

557-04-0

, ChemIDplus: 557-04-0, TBSI ID: IS371590-2.
Recommended intake of this supplement: 2 capsule, daily (adults).
Dietary supplements similar to Meratol
The Meratol dietary supplement is available in Japan and many others countries around the world. In Japan this supplement contains: Alfalfa, Caffeine, Capsicum, Magnesium, Nopal and Norwegian Kelp in its composition.
Detailed descriptions of the ingredients included in the Meratol dietary supplement:
Search Your Country