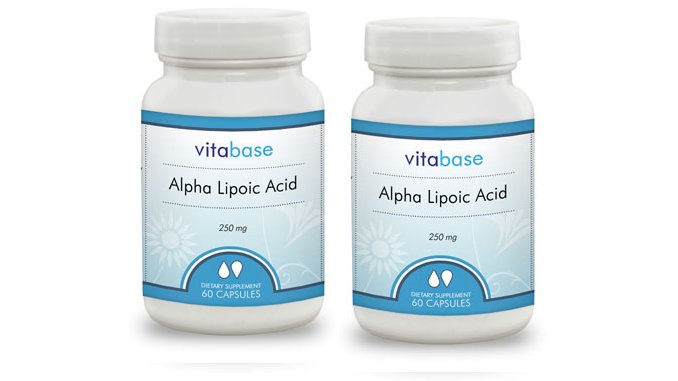 This description has been derived from the manufacturer's / distributor's website.
Alpha Lipoic Acid (ALA) is valuable because it not only neutralizes free radicals, but it also "recycles" vitamin E and vitamin C. It can restore the antioxidant properties of these vitamins after they have neutralized free radicals. Because ALA is soluble in both water and fat, it can move into all parts of cells to deactivate free radicals. ALA supports the cardiovascular system and blood sugar levels that are already within the normal range.
Neutralizes free radicals.
Helps regenerate vitamins C and E, increasing their effectiveness in scavenging free radicals.
Positively affects the metabolism, leading to increased energy.
Used since the 1960's in Europe for its positive effects on blood sugar levels.
Key to proper metabolism of glucose in the cell.
Beneficial for liver health.
Available in 100 mg and 250 mg size capsules.
Vitabase – Alpha Lipoic Acid (250 mg) – Ingredients
Alpha-Lipoic Acid (C8H14O2S2)
Alpha-Lipoic Acid:

Thioctic Acid

,

Lipoic Acid

,

Thioctacid

,

Lipothion

,

Biletan

,

Liposan

,

Thioctsan

, PubChem CID: 864, CAS:

1077-28-7

, ChemIDplus: 1077-28-7, ATC code: A16AX01,

FDA Substance Registration System – Unique Ingredient Identifier:

UNII: VLL71EBS9Z, TBSI ID: IS3ABF10.
Label
Suggested Use: As a dietary supplement, adults take one (1) vegetarian capsule daily with meals, or as directed by a health care professional. Store in a cool, dry place and away from direct light.
Components
Per Serving
(1 Vegetarian Capsule(s))
% DV
Alpha Lipoic Acid
From Lipoec® brand made by Cognis Nutrition.
250 mg
*
* Daily Value Not Established
Serving Size: 1 Vegetarian Capsule(s)
Quantity/Size: 60 Vegicaps
Caution: Keep out of reach of children.
Dietary supplements similar to Vitabase – Alpha Lipoic Acid (250 mg)
The Vitabase – Alpha Lipoic Acid (250 mg) dietary supplement is available in The United States and many others countries around the world. In The United States this supplement contains: Alpha-Lipoic Acid in its composition.
Detailed descriptions of the ingredients included in the Vitabase – Alpha Lipoic Acid (250 mg) dietary supplement:
Search Your Country