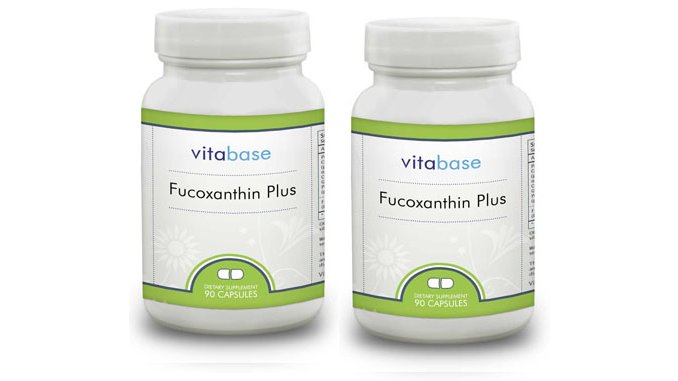 This description has been derived from the manufacturer's / distributor's website.
Fucoxanthin Plus by Vitabase includes the special weight loss ingredient fucoxanthin. Fucoxanthin is a type of carotenoid found in Wakame, a type of brown seaweed. It has been shown in studies to support weight loss. Japanese food stores commonly carry this seaweed. Fucoxanthin Plus contains fucoxanthin along with certified South African hoodia. Hoodia has traditionally been used to suppress the appetite, while green tea is added as a stimulant. Together, these ingredients provide a tool to support your weight loss goals.
Contains fucoxanthin – a powerful new weight loss ingredient from brown seaweed.
Includes hoodia, an herb traditionally used to help suppress the appetite.
Contains green tea as a stimulate and immune booster.
Fucoxanthin Plus – Ingredients
Proprietary Blend Green Tea Extract (providing 18 Milligrams Of Naturally-Occurring Caffeine)

Green Tea (Camellia Sinensis)


Grönt te extrakt befrämjar fettsyraoxidation, främjar termogenesen i kroppen, och dessutom är det en kraftfull antioxidant som skyddar mot de negativa effekterna av fria radikaler.

Species:

Camellia Sinensis

, Family: Theaceae, EMA: Camelliae Sinensis Non Fermentatum Folium, TBSI ID: IH2B07A0, References: SHIXIAN, Q.; VANCREY, B.; SHI, J.; KAKUDA, Y.; JIANG, Y. Green tea extract thermogenesis-induced weight loss by epigallocatechin gallate inhibition of Catechol-O-Methyltransferase. Journal of medicinal food, 2006, 9.4: 451-458.

PMID

:17201629, TAGHIZADEH, Mohsen; FARZIN, N.; TAHERI, S.; MAHLOUJI, M.; AKBARI, H.; KARAMALI, F.; ASEMI, Z.

The effect of dietary supplements containing green tea, capsaicin and ginger extracts on weight loss and metabolic profiles in overweight women: A randomized double-blind placebo-controlled clinical trial.

Annals of Nutrition and Metabolism, 2017, 70.4: 277-285.

PMID

:28595182
Caffeine (C8H10N4O2)


Koffein tillför energi omedelbart, ökar koncentrationen och förbättrar uthållighet. Det gör att du kan träna längre och uppnå bättre resultat.

Caffeine:

Caffeine

,

1,3,7-Trimethylxanthine

,

Thein

, PubChem CID: 2519, CAS:

58-08-2

, ChemIDplus: 58-08-2, ATC code: N06BC01, TBSI ID: IS2C8E40, Caffeine – References: TABRIZI, R.; SANEEI, P.; LANKARANI, K. B.; AKBARI, M.; KOLAHDOOZ, F.; ESMAILLZADEH, A.; NADI-RAVANDI, S.; MAZOOCHI, M.; ASEMI, Z.

The effects of caffeine intake on weight loss: a systematic review and dos-response meta-analysis of randomized controlled trials.

Critical reviews in food science and nutrition, 2018, 2018: 1-9.

PMID

:30335479, SMITH, Andrew

Effects of caffeine on human behavior.

Food and chemical toxicology, 2002, 40.9: 1243-1255.

PMID

:12204388

Certified South African Hoodia Cactus (powder) And Pomegranate Extract (providing 5 Milligrams Of Ellagic Acid)

Hoodia (Hoodia Gordonii)Species:

Hoodia Gordonii

, Family: Apocynaceae, TBSI ID: IH48EFE0

Fucoxanthin (from Wakame) (Brown Seaweed) (Undaria Pinnatifida)
Label
Suggested Use: As a dietary supplement, take one (1) capsule three (3) times daily with food and 8 ounces of water. This product should be used in conjunction with a sensible diet and exercise program. Do not exceed three (3) capsules per day.
Components
Per Serving
(1 Capsule(s))
% DV
Proprietary Blend Green Tea Extract (providing 18 milligrams of naturally-occurring caffeine), Certified South African Hoodia Cactus (powder) and Pomegranate Extract (providing 5 milligrams of Ellagic Acid).
283 mg
*
Fucoxanthin (from Wakame) (Brown Seaweed) (Undaria Pinnatifida)
5 mg
*
* Daily Value Not Established
Serving Size: 1 Capsule(s)
Quantity/Size: 90 capsules
Caution: Do not exceed recommended dose. This product is not intended for pregnant or nursing mothers, children under the age of 18, or individuals taking prescription drugs. Discontinue use immediately if nausea, sleeplessness, or nervousness occur. Do not take this product if you have a known medical condition including high blood pressure, diabetes, any cardiovascular disorder, heart disease, hyperthyroidism, or are taking antidepressant medications. If you have questions about the advisability of taking this product, consult your physician prior to use. KEEP OUT OF THE REACH OF CHILDREN. DO NOT USE IF OUTER SEAL IS DAMAGED OR MISSING. STORE IN A COOL, DRY PLACE. MADE IN THE U.S.A.
Dietary supplements similar to Fucoxanthin Plus
The Fucoxanthin Plus dietary supplement is available in Sweden and many others countries around the world. In Sweden this supplement contains: Caffeine, Ellagic Acid, Fucoxanthin, Green Tea, Hoodia and Wakame in its composition.
Detailed descriptions of the ingredients included in the Fucoxanthin Plus dietary supplement:
Search Your Country