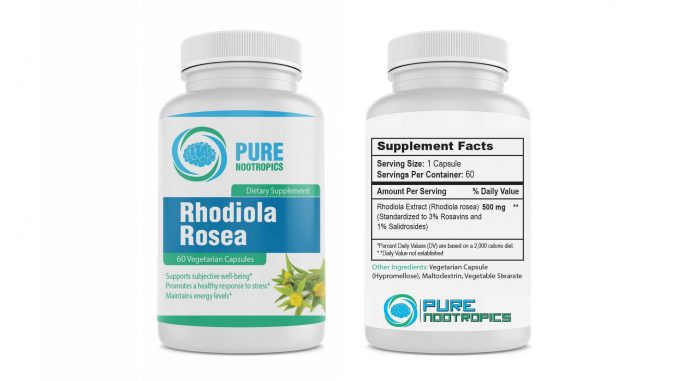 Rhodiola Rosea is a plant treasured for the active constituents of its roots. The root contains more than 30 compounds which include glycosides. Its active glycoside salidroside (or rhodosine, rhodioloside) and a compound called rosavin are believed to be the active compounds in Rhodiola Rosea. Other plants in the Rhodiola family do not contain rosavin.
Rhodiola stimulates dopamine, serotonin, norepinephrine, and nicotinic cholinergic pathways in the central nervous system. The studies in animals, which may not be representative of the effect in humans, suggest that Rhodiola may increase serotonin levels.
Rhodiola's effects on the central nervous system and its effects on neural plasticity are thought to be the mechanism behind its ability to reduce symptoms of work-related stress, as illustrated by a study on fatigue with night doctors.
Rhodiola has also been studied for its promise of reducing symptoms of people under chronic stress and improving their perceived stress levels.
In addition, Rhodiola may improve endurance during exercise performance because of its mediating effects of decreasing heart rate and the perception of effort during exercise. It may also boost anaerobic performance.
Pure Nootropics Rhodiola Rosea Capsules
Pure Nootropics' Rhodiola Rosea capsules provide 500 mg (of Standardized 3% Rosavins and 1% Salidrosides) per 1 capsule. Suggested use for adults is 1 capsule by mouth daily, or as directed by your healthcare practitioner.
Pure Nootropics Rhodiola Rosea Capsules – Ingredients
Rhodiola Rosea Capsules Provide 500 Mg (of Standardized 3% Rosavins And 1% Salidrosides) Per 1 Capsule.
Dietary supplements similar to Pure Nootropics Rhodiola Rosea Capsules
The Pure Nootropics Rhodiola Rosea Capsules dietary supplement is available in The United Kingdom and many others countries around the world. In The United Kingdom this supplement contains: Rhodiola Rosea in its composition.
Detailed descriptions of the ingredients included in the Pure Nootropics Rhodiola Rosea Capsules dietary supplement:
Search Your Country