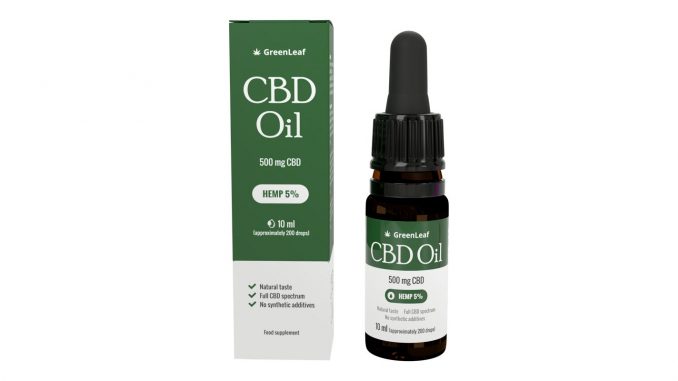 This description has been derived from the manufacturer's / distributor's website.
CBD oils have been used and praised by people struggling with various ailments for years. The oil owns its beneficial features to the presence of a compound called cannabidiol. Each GreenLeaf CBD Oil bottle contains 5%. Until recently it was available mainly abroad, today you can enjoy its merits at home thanks to GreenLeaf CBD Oil.
Because CBD, unlike THC in marijuana, doesn't have a psychoactive effect, possessing it is fully permitted!
Hemp oils are also known for their high content of unsaturated fatty acids, omega-3 or omega-6. Omega-3 fatty acids prevent blood sugar fluctuations, support the heart, and also have a good effect on appearance. The advantages of omega-6 fatty acids include, for example, their supportive effect on the functioning of the liver and kidney.
Is GreenLeaf CBD Oil marijuana? Does it have psychoactive properties?
CBD oil is something completely different from marijuana. The oil has no psychoactive properties and is legal. The oil is also obtained from a completely different plant that contains a minimal amount of THC.
What is the bottle capacity?
The bottle contains 10 ml of oil – it is about 200 drops.
How much CBD contains 1 drop of essential oil?
One drop contains 2.5 mg CBD.
How should GreenLeaf CBD Oil be used?
Apply 3-4 drops 3 times a day. Shake well before use. Drops should be put under the tongue for 2-3 minutes, then swallowed. After opening, consume within 30 days.
GreenLeaf – CBD Oil – Ingredients
10 Ml Hemp Seed Oil (5% – 500 Mg CBD (cannabidiol) + CBDV + CBC + CBG + CBN)
Dietary supplements similar to GreenLeaf – CBD Oil
The GreenLeaf – CBD Oil dietary supplement is available in Australia and many others countries around the world. In Australia this supplement contains: Cannabinoid, CBC, CBD, CBDV, CBG, CBN and Hemp in its composition.
Detailed descriptions of the ingredients included in the GreenLeaf – CBD Oil dietary supplement:
Search Your Country