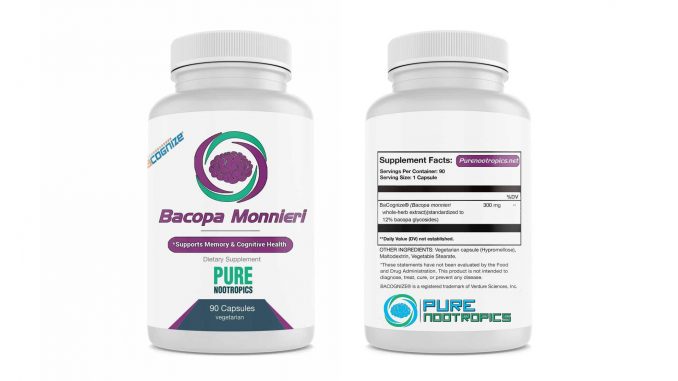 This description has been derived from the manufacturer's / distributor's website.
Bacognize® has been clinically tested in humans and has strong scientific evidence to support its benefits. The unique formulation of Bacognize® enables the Bacopa extract to be active at the serotonin receptors in the brain and may increase serotonin levels.
Bacopa Monnieri's active chemical compounds are bacosides and bacogenins. Bacosides A and B enhance the transmission of impulses between neural synapses. Bacosides can also protect and repair neurons.
Most of Bacopa extract's effects in the body are cognitive. The neurotransmitter acetylcholine is found in large amounts in the hippocampus, the part of the brain responsible for learning and memory. Maintaining acetylcholine in the brain is an integral part of cognitive health. Bacopa Monnieri extract suppresses an enzyme that breaks down acetylcholine, called acetylcholinesterase (or AChE), in the cerebral cortex. Since the enzyme responsible for breaking down acetylcholine is reduced, the amount of available acetylcholine remains higher and cognitive health is improved.
Together, these mechanisms provide the brain with improved conditions that improve memory, attention, focus, mood and cognitive processing from supplementation with Bacognize®.
Bacognize® Bacopa Monnieri Capsules
Pure Nootropics' Bacopa Monnieri Capsules provide 300 mg of (standardized to 12% SABG) Bacognize® extract. Suggested use for adults is 1 capsule by mouth daily, or as directed by your healthcare practitioner.
Pure Nootropics BaCognize® Bacopa Monnieri Capsules – Ingredients
BaCognize® Bacopa Monnieri Capsules 300mg

Bacopa Monnieri (Bacopa Monnieri)


Helps to absorb knowledge, strengthens the ability to concentrate, improves brain function, improves cognitive functions. The indian herb Bacopa monnieri contains compounds called bacosides which are thought to help repair damaged neurons and promote new nerve growth. This improves neuron communication with the brain, helping improve your cognitive function and mental performance.

Bacopa Monnieri

Family: Scrophulariaceae,

TBSI ID

: IH358EF0, References: MCPHEE, G. M.; DOWNEY, L. A.; NOBLE, A.; STOUGH, C.

Cognitive training and Bacopa monnieri: Evidence for a combined intervention to alleviate age associated cognitive decline.

Medical hypotheses, 2016, 95: 71-76.

PMID

:27692172, MORGAN, A.; STEVENS, J.

Does Bacopa monnieri improve memory performance in older persons? Results of a randomized, placebo-controlled, double-blind trial.

The journal of alternative and complementary medicine, 2010, 16.7: 753-759.

PMID

:20590480
Dietary supplements similar to Pure Nootropics BaCognize® Bacopa Monnieri Capsules
The Pure Nootropics BaCognize® Bacopa Monnieri Capsules dietary supplement is available in The United Kingdom and many others countries around the world. In The United Kingdom this supplement contains: Bacopa Monnieri in its composition.
Detailed descriptions of the ingredients included in the Pure Nootropics BaCognize® Bacopa Monnieri Capsules dietary supplement:
Search Your Country