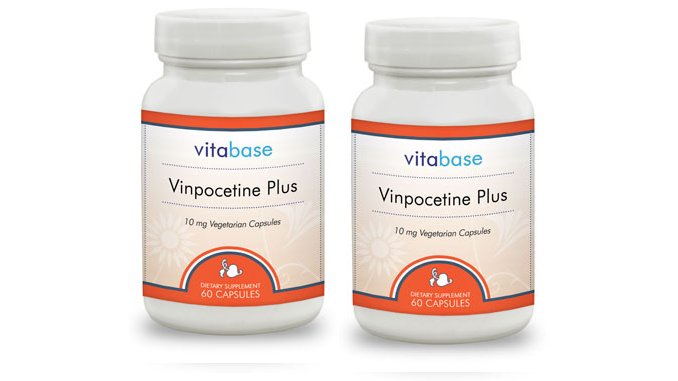 This description has been derived from the manufacturer's / distributor's website.
Vinpocetine, a compound derived from the Periwinkle plant, has been used in Europe for over twenty-five years to promote a healthy memory and improve concentration. Vinpocetine may also have antioxidant effects similar to those of vitamin E. Each capsule contains 10 mg of high quality vinpocetine along with niacin, goto kola, and butcher's broom which enhance the benefits of vinpocetine.
May aid memory.
Supports brain circulation.
Helps cognitive function.
Vitabase – Vinpocetine Plus (10 mg) – Ingredients
Label
Suggested Use: As a dietary supplement, adults take one (1) vegetarian capsule daily with meals, or as directed by a health care professional. Store in a cool, dry place and away from direct light.
Components
Per Serving
(1 Vegetarian Capsule(s))
% DV
Niacin
10 mg
50%
Vinpocetine (from Vinca minor seed)
10 mg
*
Gotu Kola Leaves (Centella asiatica)
100 mg
*
Butcher's Broom Root (Ruscus aculeatus)
100 mg
*
* Daily Value Not Established
Serving Size: 1 Vegetarian Capsule(s)
Quantity/Size: 60 Vegetarian Capsules
Caution: Keep out of reach of children.
Dietary supplements similar to Vitabase – Vinpocetine Plus (10 mg)
The Vitabase – Vinpocetine Plus (10 mg) dietary supplement is available in The United Kingdom and many others countries around the world. In The United Kingdom this supplement contains: Butcher's Broom, Gotu Kola, Vinpocetine and Vitamin B3 in its composition.
Detailed descriptions of the ingredients included in the Vitabase – Vinpocetine Plus (10 mg) dietary supplement:
Search Your Country