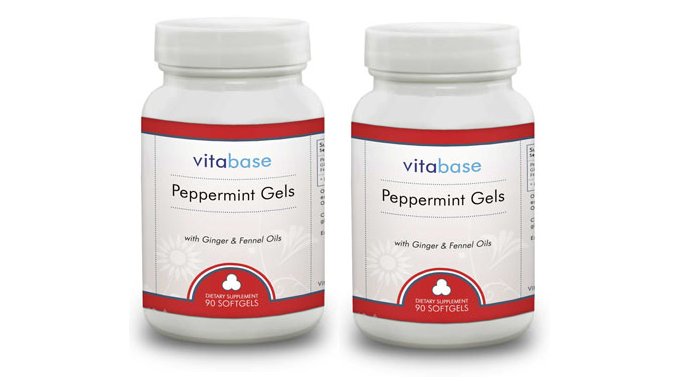 This description has been derived from the manufacturer's / distributor's website.
Peppermint oil comes from the mint family, which is known to be nutrient rich. Taken orally, it is often used as a digestive aid. The enteric coating used on Vitabase Peppermint Extract Gels keeps the oil from breaking down in the intestinal tract, protecting it until it reaches the small intestine, where peppermint is most effective in addressing digestive conditions. This also eliminates the aftertaste that often occurs when ingesting peppermint. The formula also includes fennel oil and ginger oil which provide synergistic benefits to the intestinal tract.
Traditionally used for circulatory, digestive and nervous system support.
Enteric coated to prevent unpleasant aftertaste.
Includes ginger oil and fennel oil for additional digestive support.
Peppermint Gels (Formula) – Ingredients
Peppermint Oil Extract

Peppermint (Mentha X Piperita)Species:

Mentha X Piperita

, Family: Lamiaceae, EMA: Menthae Piperitae Aetheroleum, EMA: Menthae Piperitae Folium, TBSI ID: IH476940, References: CHUMPITAZI, Bruno P.; KEARNS, G. L.; SHULMAN, Robert J.

Review article: the physiological effects and safety of peppermint oil and its efficacy in irritable bowel syndrome and other functional disorders.

Alimentary pharmacology & therapeutics, 2018, 47.6: 738-752.

PMID

:29372567, MERAT, Shahin; et al.

The effect of enteric-coated, delayed-release peppermint oil on irritable bowel syndrome.

Digestive diseases and sciences, 2010, 55.5: 1385-1390.

PMID

:19507027

Ginger Oil Extract
Fennel Oil Extract
Label
Suggested Use: As a dietary supplement, take 1 softgel 1 to 3 times daily, preferably between meals.
Components
Per Serving
(1 Softgel(s))
% DV
Peppermint Oil Extract (Mentha piperita)
0.2 ml
*
Ginger Oil (Zingiber officinale)
0.2 ml
*
Fennel Oil (Foeniculum vulgare)
0.2 ml
*
* Daily Value Not Established
Serving Size: 1 Softgel(s)
Quantity/Size: 90 softgels
Dietary supplements similar to Peppermint Gels (Formula)
The Peppermint Gels (Formula) dietary supplement is available in The United Kingdom and many others countries around the world. In The United Kingdom this supplement contains: Fennel, Ginger and Peppermint in its composition.
Detailed descriptions of the ingredients included in the Peppermint Gels (Formula) dietary supplement:
Search Your Country