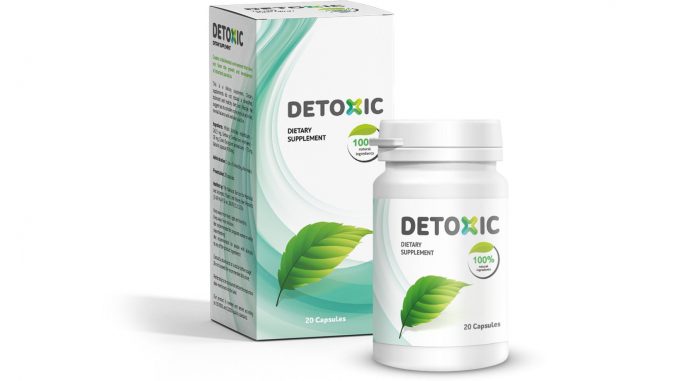 This description has been derived from the manufacturer's / distributor's website.
Detoxic je zanesljivo zdravilo v boju proti parazitom! V 30 dneh bo iz vašega telesa popolnoma odstranil parazite in gliste. Izboljša vaše zdravje in ščiti jetra, srce, pljuča, želodec in kožo pred paraziti. Okrepi biorazgradnjo v črevesju in preprečuje odlaganje jajčec parazitov s pomočjo aktivnih snovi.
Preverite, ali imate simptome okužbe s paraziti!
Alergije (izpuščaji, solzne oči, izcedek iz nosu).
Pogosti prehladi, vnetje mandeljnov, zaprt nos.
Kronična utrujenost (zelo hitro se utrudite, ne glede na to, kaj počnete).
Pogosti glavoboli, zaprtje in driska.
Bolečine v mišicah in sklepih.
Razdražljivost, nespečnost, motnje apetita.
Temni kolobarji in vrečke pod očmi.
Zakaj je Detoxic boljši od kemičnih zdravil?
Certificirano zdravilo, ki ga priporočajo helmintologi, s katerim se parazitov rešite kar doma.
Vsebuje le zdravilne rastline, nabrane v nedotaknjenih in neoporečnih krajih.
Nima stranskih učinkov (v nasprotju s kemičnimi tabletami, ki povzročajo omotico, slabost in bruhanje ter poslabšajo biokemično stanje jeter).
Je popolnoma naravno in varno sredstvo za razstrupljanje in ga lahko jemljete brez recepta.
Detoxic vas pozdravi in izboljša vaš imunski sistem
Odličen je tudi za vašo kožo, lase in nohte. Videti ste mlajši. Alergije izginejo!
Prebava se normalizira, ponoči se naspite in s tem se poveča tudi vaša delovna storilnost. Lahko naredite več, ne da bi se utrudili!
Paraziti bodo za vedno izginili iz vašega življenje, z njimi pa tudi vse bolezni! Vi in vaša družina boste zdravi!
Detoxic – Sestavine
Yarrow (Achillea Millefolium)

Achillea Millefolium

Family: Asteraceae,

TBSI ID

: IH4C2430, EMA: Millefolii Herba, EMA: Millefolii Flos, References: ZENGIN, Gokhan; et al.

Shedding light on the biological and chemical fingerprints of three Achillea species (A. biebersteinii, A. millefolium and A. teretifolia).

Food & function, 2017, 8.3: 1152-1165.

PMID

:28174780, MOHAMMADHOSSEINI, Majid; SARKER, Satyajit D.; AKBARZADEH, Abolfazl

Chemical composition of the essential oils and extracts of Achillea species and their biological activities: A review.

Journal of ethnopharmacology, 2017, 199: 257-315.

PMID

:28179115
Cloves (Syzygium Aromaticum)

Syzygium Aromaticum

Family: Myrtaceae,

TBSI ID

: IH46F410, EMA: Caryophylii Floris Aetheroleum, References: CHAIEB, Kamel; et al.

The chemical composition and biological activity of clove essential oil, Eugenia caryophyllata (Syzigium aromaticum L. Myrtaceae): a short review.

Phytotherapy research, 2007, 21.6: 501-506.

PMID

:17380552, LIU, Qing; et al.

Antibacterial and antifungal activities of spices.

International journal of molecular sciences, 2017, 18.6: 1283.

PMID

:28621716
Common Centaury (Centaurium Erythraea)

Centaurium Erythraea

Family: Gentianaceae,

TBSI ID

: IH4C4B40, EMA: Centaurii Herba, References: ŠILER, Branislav; et al.

Centauries as underestimated food additives: Antioxidant and antimicrobial potential.

Food chemistry, 2014, 147: 367-376.

PMID

:24206732
Prehranska dopolnila, podobna Detoxic
The Detoxic dietary supplement is available in Slovenia and many others countries around the world. In Slovenia this supplement contains: Cloves, Common Centaury and Yarrow in its composition.
Detailed descriptions of the ingredients included in the Detoxic dietary supplement:
Search Your Country