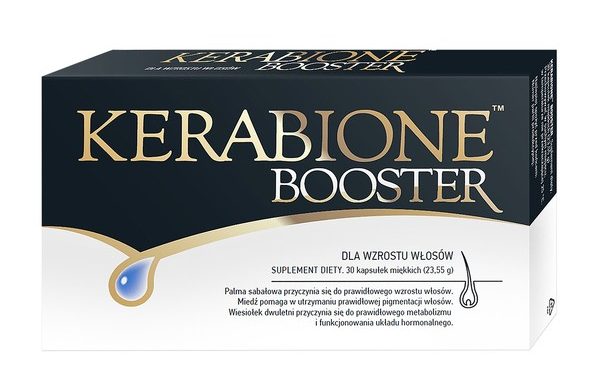 Ten opis pochodzi ze strony producenta / dystrybutora.
Kerabione Booster – suplement diety zawierający w swoim składzie składniki wspomagające wzrost włosów.
Palma sabałowa przyczynia się do prawidłowego wzrostu włosów poprzez hamowanie i blokowanie działania dihydroergosteronu, hormonu hamującego wzrost włosów. Niektóre ostatnio prowadzone badania kliniczne potwierdzają korzyści jakie daje wyciąg z Palmy Sabałowej w przypadku łysienia androgenowego. Wyciąg z owoców Palmy Sabałowej jest również ceniony ze wzglądu na wspomaganie prawidłowego funkcjonowania prostaty i funkcji rozrodczych.
Wiesiołek dwuletni przyczynia się do prawidłowego metabolizmu i funkcjonowania układu hormonalnego Wyciskany na zimno olej z nasion Wiesiołka dwuletniego zawiera kwas linolowy i jego metabolity, kwas gamma linolenowy, wielonienasycone kwasy tłuszczowe występujące w glikozydach zawartych w roślinie. Kwas linolowy jest bardzo ważnym kwasem w diecie człowieka i bierze również udział w syntezie prostaglandyn i błon komórkowych.
Miedź jest ważna dla prawidłowej pigmentacji skóry i włosów, poprzez uczestniczenie w syntezie barwnika melaniny, który chroni włosy i skórę przed szkodliwym działaniem promieniowania ultrafioletowego.
Witamina E (tokoferol) jest witaminą rozpuszczalną w tłuszczach, która nie jest wytwarzana wewnątrz organizmu, dlatego musi być dostarczana z pożywieniem. Witamina E jest bioaktywnym zmiataczem wolnych rodników, który działa fizjologicznie jako niszczący wiązania antyoksydant i chroni przed peroksydacją tłuszczów. Stanowi cześć antyoksydacyjnego systemu obronnego organizmu, który jest złożoną siecią obejmującą zarówno antyoksydanty endogenne jak i obecne w żywności, enzymy antyoksydacyjne oraz mechanizmy naprawcze. Pomiędzy tymi komponentami stale zachodzą wzajemne interakcje i efekty synergetycznego działania. Witamina E przyczynia sią do ochrony komórek (także komórek mieszków włosowych) przed stresem oksydacyjnym.
Witamina A dzięki temu, że odpowiada za integralność błon komórkowych ciała, pomaga w zachowaniu zdrowej skóry. Systemowy efekt niedoboru witaminy A obejmuje suchość skóry (hiperkeratoza mieszków włosowych) i uogólnione spłaszczenie nabłonka (metaplazja nabłonkowa, czasami z keratynizacją) całego ciała. Witamina A odgrywa rolą w procesie specjalizacji komórek.
Kwasy Omega-3 pochodzące z oleju rybiego. Olej rybi jest jednym z najstarszych form uzupełnienia diety. Zawiera wielonienasycone kwasy tłuszczowe omega-3, EPA (kwas eikozapentaenowy) i DHA (kwas dokozakeksaenowy). Są to kwasy niezbędne dla organizmu, ponieważ nie są przez niego syntetyzowane. Dlatego ważne jest dostarczanie ich wraz z pożywieniem.
Kerabione Booster – Składniki
Kwasy Omega-3
Kwasy Omega-3:

Omega-3 Acids

, TBSI ID: IS317040
Miedź (Cu)
Miedź:

Copper

, PubChem CID: 23978, CAS:

7440-50-8

, ChemIDplus: 7440-50-8, TBSI ID: IS2A9270
Olej Rybi
Olej Rybi:

Fish Oil

,
Palma Sabałowa (Serenoa Repens)Species:

Serenoa Repens

, Family: Palmae, EMA: Sabalis Serrulatae Fructus, TBSI ID: IH275E20
Witamina A (retinol) (C20H30O)
Witamina A (retinol):

Retinol

,

Vitamin A

,

All-Trans-Retinol

,

Vitamin A1

,

Alphalin

,

Axerophthol

,

Afaxin

,

Alphasterol

, PubChem CID: 445354, CAS:

68-26-8

, ChemIDplus: 68-26-8, ATC code: A11CA01,

FDA Substance Registration System – Unique Ingredient Identifier:

UNII: G2SH0XKK91, TBSI ID: IS2AB980
Szczegółowe informacje na temat składników suplementu Kerabione Booster
Kerabione Booster
Składniki
1 kapsułka
% RWS*
Kwasy Omega 3
150 mg
—
Wyciąg gęsty z owoców palmy sabałowej w tym kwasy tłuszczowe
100 mg 80 mg
— —
Olej z nasion wiesiołka dwuletniego w tym kwas gamma linolenowy (GLA)
50 mg 4,5 mg
— —
Witamina E
1,8 mg
15%
Miedź
1000 µg
100%
Witamina A
120 µg
15%
Szczegóły dotyczące składu
Dla kogo przeznaczony jest suplement Kerabione Booster?
Osoby, które mogą przyjmować suplement "Kerabione Booster" firmy VALENTIS:
Dawkowanie suplementu Kerabione Booster
Dorośli: 1 kapsułka dziennie podczas posiłku.
Uwaga
Nie należy przekraczać zalecanej dziennej porcji.
Dla utrzymania prawidłowego stanu zdrowia należy stosować zróżnicowaną dietę i prowadzić zdrowy tryb życia.
Suplement diety nie może być stosowany jak substytut (zamiennik) zróżnicowanej diety.
Przechowywać w temperaturze pokojowej.
Chronić od światła i wilgoci.
Suplementy diety powinny być przechowywane w sposób niedostępny dla małych dzieci.
Zobacz również: Przepisy prawa regulujące znakowanie suplementów diety
Suplement diety Kerabione Booster jest dostepny w Polsce. Zawiera takie składniki jak: Copper, Omega-3 Acids, Saw Palmetto, Vitamin A and Vitamin E.
Szczegółowy opis składników zawartych w suplemencie diety Kerabione Booster:
Search Your Country