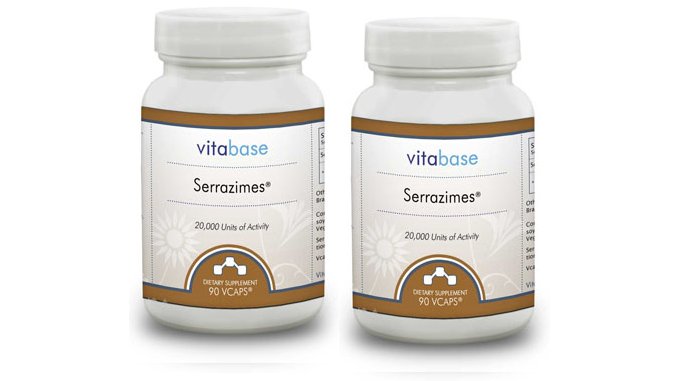 This description has been derived from the manufacturer's / distributor's website.
Vitabase Serrazimes is a unique proteolytic blend of enzymes designed to be a safe and effective alternative to serrapeptidase. Serrapeptidase is taken from the intestines of the Japanese silkworm and has been been employed to assist the respiratory and cardiovascular systems. It is also shown to have anti-inflammatory properties. Because of safety concerns, it is not available for sale in the United States.
However, Vitabase Serrazimes is extracted from plants that have long been known to be safe while exhibiting the same capabilities of serrapeptidase. Laboratory analysis has determined that Vitabase Serrazimes has a 1:1 equivalent of serrapeptidase activity. This product has 20,000 proteolytic units per capsule.
Special proteolytic blend of enzymes.
Anti-inflammatory properties.
Safer alternative to Serrapeptidase.
May support the immune system.
Serrazimes – Ingredients
Label
Suggested Use: As a dietary supplement, take 1 Vcap® 1 to 2 times daily before meals. Make sure to take on an empty stomach.
Components
Per Serving
(1 Vegetarian Capsule(s))
% DV
Serrazimes® (33 mg)
20000 Units
*
* Daily Value Not Established
Serving Size: 1 Vegetarian Capsule(s)
Quantity/Size: 90 vegicaps
Caution: Not recommended for pregnant/lactating women or young children. If currently taking any anti-coagulant (blood-thinning) medications, please consult a health practitioner prior to use.
Dietary supplements similar to Serrazimes
The Serrazimes dietary supplement is available in The United Kingdom and many others countries around the world. In The United Kingdom this supplement contains: in its composition.
Detailed descriptions of the ingredients included in the Serrazimes dietary supplement:
Search Your Country