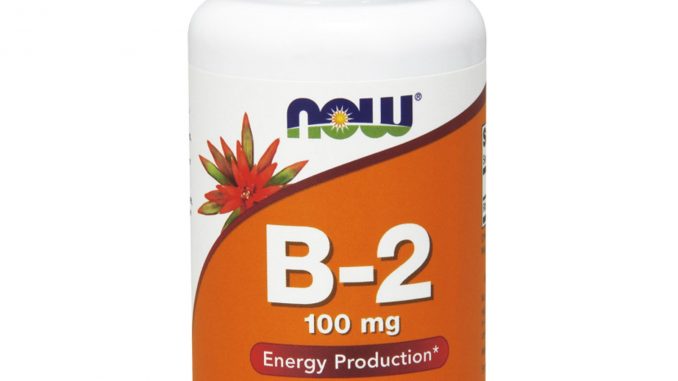 This description has been derived from the manufacturer's / distributor's website.
Vitamin B2, also known as Riboflavin, is a member of the B-vitamin family. It occurs naturally in green vegetables, liver, kidneys, wheat germ, milk, eggs, cheese and fish. Riboflavin is an important enzyme cofactor necessary for energy production from carbohydrate, fat, and protein. It is also needed for the regeneration of glutathione, which supports the body's natural defense mechanisms and detoxification systems.
Soy Free
Sugar Free
non-GMO
Egg Free
Dairy Free
Corn Free
Low Sodium
Made w/o Gluten
B-2, 100 mg, 100 Capsules (Now Foods) – Ingredients
Vitamin B


Vitamin B2 (riboflavin) (C17H20N4O6)
Vitamin B2 (riboflavin):

Riboflavin

,

Riboflavina

,

Riboflavinum

,

Vitamin B2

,

Lactoflavin

,

Riboflavine

,

Vitamin G

,

Beflavin

,

Beflavine

, PubChem CID: 493570, CAS:

83-88-5

, ChemIDplus: 83-88-5, ATC code: A11HA04,

FDA Substance Registration System – Unique Ingredient Identifier:

UNII: C17H20N4O6, TBSI ID: IS2F4D60.
Supplement Facts
Name:
B-2, 100 mg, 100 Capsules
Serving Size:
1 Capsule
Amount Per Serving
%Daily Value
Riboflavin (Vitamin B2)
100 mg
7692%
Manufacturer

:

Now Foods

Manufacturer Code

:

00447

UPC Code (

gtin12

):

733739004475

Package Quantity

Count

100
Other ingredients
Other Ingredients: Rice Flour, Gelatin (capsule), Magnesium Stearate (vegetable source) and Silica.
B-2, 100 mg, 100 Capsules – Suggested Use
Take 1 capsule daily with a meal.
Recommended Intake
Dose Unit
Dose Value
Frequency
Target Population
capsule
1
daily
adults
Warnings
Caution: For adults only. Consult physician if pregnant/nursing, taking medication, or have a medical condition. Keep out of reach of children.
Do not eat freshness packet. Keep in bottle.
Natural color variation may occur in this product.
Store in a cool, dry place after opening.
Dietary supplements similar to B-2, 100 mg, 100 Capsules (Now Foods)
The B-2, 100 mg, 100 Capsules (Now Foods) dietary supplement is available in The United Kingdom and many others countries around the world. In The United Kingdom this supplement contains: Vitamin B and Vitamin B2 in its composition.
Detailed descriptions of the ingredients included in the B-2, 100 mg, 100 Capsules (Now Foods) dietary supplement:
Search Your Country