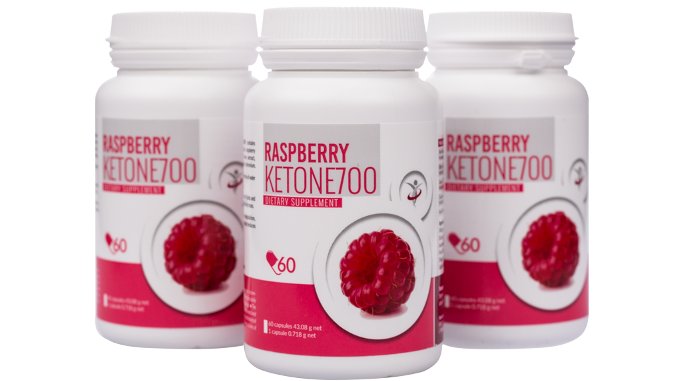 Ten opis pochodzi ze strony producenta / dystrybutora.
Raspberry Ketone 700 to suplement diety dla osób, które chcą raz na zawsze rozprawić się z nadmiarem kilogramów i spalić zalegający tłuszcz. Produkt zawiera wyciągi z owoców maliny właściwej, owoców gorzkiej pomarańczy, liści zielonej herbaty, nasion guarany i owoców acai. Aktywne składniki pochodzenia naturalnego sprawiają, że preparat jest całkowicie bezpieczny i skuteczny.
Ketony malinowe to naturalnie występujące polifenole roślinne, które odpowiadają za charakterystyczny smak i zapach owoców malin. Naukowcy odkryli, że ketony potrafią skutecznie przyspieszyć spalanie tkanki tłuszczowej poprzez proces termogenezy. Ich działanie opiera się głównie na podnoszeniu stężenia adiponektyny – hormonu, który w organizmie odpowiada za poziom glukozy i procesy metaboliczne. Dodatkowo RaspberryKetone700 wzmacnia odporność oraz zmniejsza uczucie zmęczenia.
Maliny mają działanie przeciwzapalne i przeciwgorączkowe, zawierają witaminy z grupy B, C i E – wzmacniające układ odpornościowy. Udowodniono, że polifenole zawarte w malinach opóźniają procesy starzenia i korzystnie wpływają na skórę.
Raspberry Ketone 700 – Składniki
Recommended intake of this supplement: 2 capsule, daily (adults).

Suplementy diety podobne do Raspberry Ketone 700
Suplement diety Raspberry Ketone 700 jest dostępny w Polsce i wielu innych krajach na całym świecie. W Polsce ten suplement zawiera w swoim składzie następujące składniki: Acai Berry, Bitter Orange, Caffeine, Green Tea, Guarana Seed, Raspberry, Raspberry Ketone and Synephrine.
Szczegółowy opis składników zawartych w suplemencie diety Raspberry Ketone 700:
Search Your Country